Interactive whiteboards in primary and secondary educational facilities are quickly replacing blackboards, whiteboards and projectors for classroom lessons. The impressive flexibility, functionality and level of access that comes with interactive whiteboard teaching mean that smart boards and interactive whiteboards are only increasing in popularity among educators, teachers and schools.
Apart from the obvious advantages that come with embracing advanced technologies, there is a myriad of benefits of interactive whiteboards in the primary classroom. As Australia's leading online retailer of interactive and smart whiteboards, we're here to explain the many perks that come with interactive whiteboard teaching and how you can integrate smart boards in the classroom.
What Is an Interactive Whiteboard in a Classroom?
An interactive whiteboard is a smart board that much like a whiteboard is a fantastic communication tool to use within the classroom and learning environment. The difference between a traditional whiteboard and an interactive whiteboard is that an interactive whiteboard in the classroom integrates technology, displaying a large digital screen for learning resources and tools.
Interactive whiteboards can be used in a wide range of applications; however, interactive boards are becoming particularly prevalent in the classroom. The ease of use and widespread engagement for learning means that every day, teachers are relying on interactive whiteboards in the classroom to support their lessons, in both primary and secondary educational facilities.
How Does an Interactive Whiteboard Work?
So, how does an interactive whiteboard work? When interactive whiteboards were first introduced, many educators were hesitant to adopt, likely because of the potential technology complications. However, the functionality of interactive whiteboards is relatively simple, and now the use of interactive whiteboards is widespread. Interactive whiteboards are very easy to use – that's why they are great for primary school learning. In fact, the ease of use is one of the many benefits of interactive whiteboards in the primary classroom.
Using an interactive whiteboard is as simple as connecting your computer. Through a projector, an image of the computer screen is displayed on the interactive board, where the board offers touch screen capabilities. The interactive whiteboard allows the user to click on buttons, highlight text and drop and drag items right from the computer screen display. Interactive whiteboards are available in the form of a stand-alone touchscreen computer or a connectable apparatus with touchpad controls from the projector screen.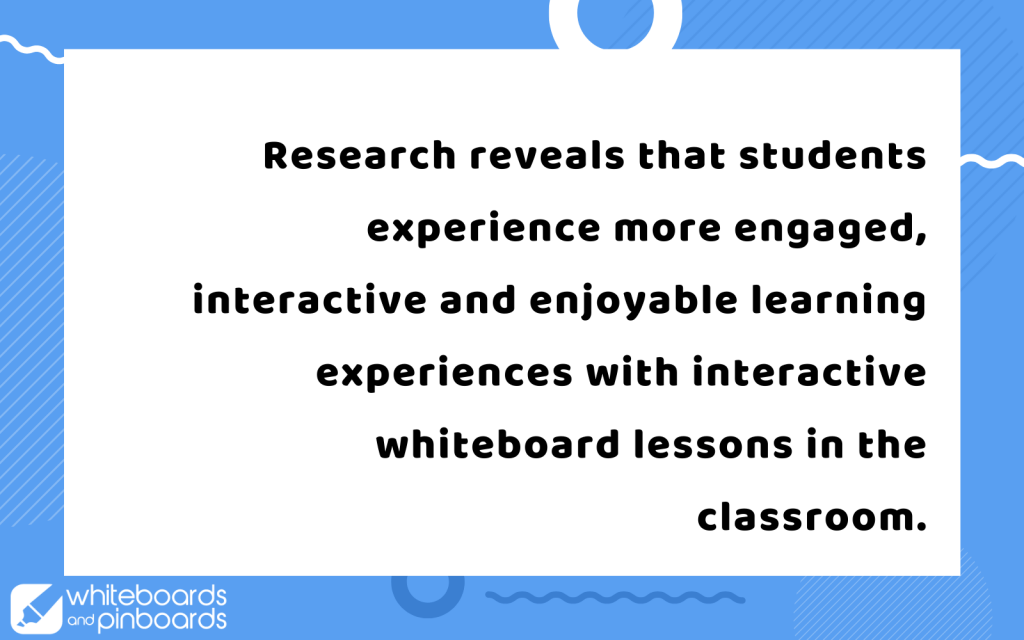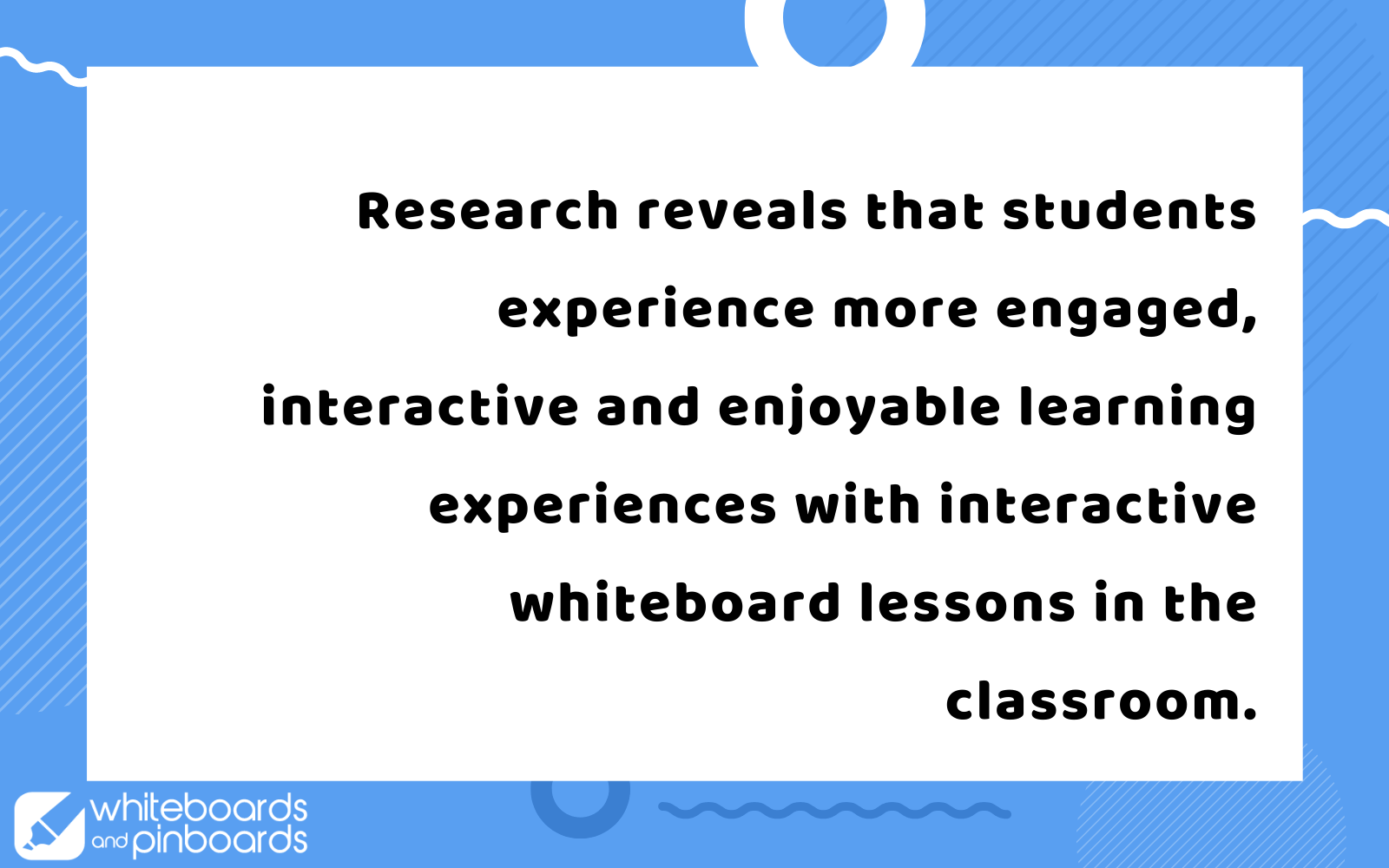 What Is an Interactive Whiteboard in a Classroom Used For?
Interactive whiteboards in the classroom can be used for a wide variety of applications. Smart whiteboards are classroom tools that allow for an enriched, dynamic and engaging educational experience for both teachers and students.
Teachers using interactive whiteboards may use the device to present content to students, highlight important information and engage students in group problem-solving. Classes with smart board teachings may include question and answer sessions, explanations with diagrams, video content, or educational games and interactive materials. Interactive whiteboards in the classroom also significantly simplify the teaching and learning process in the classroom – making each lesson more time-efficient, effective and engaging.
Shop our Most Popular Categories
What Are the Benefits of Interactive Whiteboards in the Primary Classroom?
There are so many benefits that come with using an interactive whiteboard in the classroom. The move for more facilities to use interactive whiteboards is not purely just to start relying on technology for classroom learning – interactive whiteboards have proven to be extremely effective in the primary classroom. Here are the 6 main benefits of interactive whiteboards in the primary classroom:
1. Encourage Student Engagement
Smartboards and interactive whiteboards have been proven to encourage a more interactive and engaging learning experience. Primary school students tend to have relatively low attention spans – smart boards offer a myriad of opportunities to keep students engaged through interactive features.
2. Makes the Learning Process More Enjoyable
On top of offering engaging experience, smart boards also make the learning and classes more enjoyable. The digital features of interactive whiteboards mean that teachers can use online educational games, question and answering sessions, group problem solving and learning exercises to make the lesson more fun for the students.
3. Internet Connectivity
As interactive whiteboards are connected to the internet, teachers have access to an inexhaustible amount of resources for their lessons. Smartboards are online, which allows educators to rely on a myriad of sources for content, videos, games, programs and lessons. Being connected to the internet also means that lesson time is significantly enhanced, as teachers do not have to spend time writing, reading and working from a book or physical resource.
4. Accommodates Different Learning Styles
An interactive whiteboard accommodates a variety of learning styles; where traditional education tools are often quite limiting. With an interactive whiteboard, primary school students can learn in a way that best fits for them. A smartboard provides access to tools and materials for audio, visual, and kinetic learners to get the most out of each classroom lesson.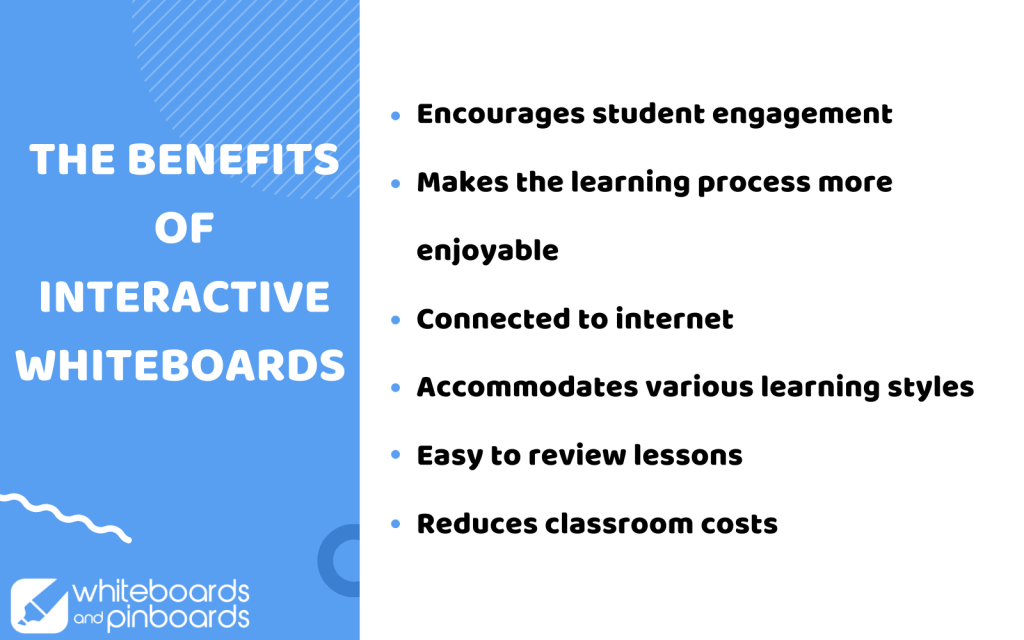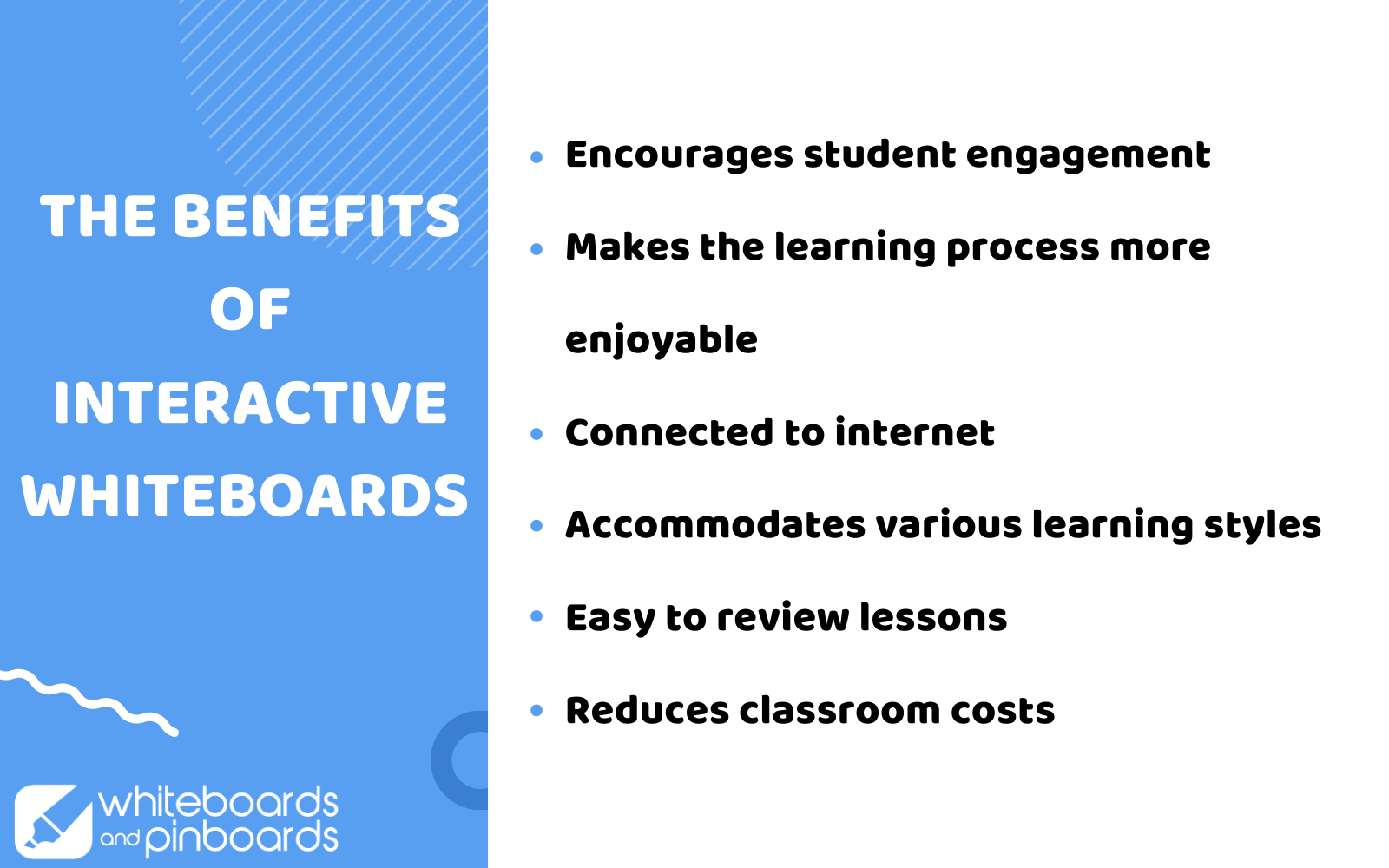 5. Makes Lesson Revision More Convenient
At the end of each class, it's important to review and revise all of the points for students to reiterate the learnings. Interactive whiteboards make lesson revisions much more convenient than re-writing summaries of each important point. Teachers can easily summarise each lesson, ensuring the students are left with an increased understanding of the lesson.
6. Reduces Classroom Costs
Where traditional whiteboards and chalkboards rely on additional tools like dry markers, erasers, chalk and other whiteboard accessories, interactive whiteboards do not need any of these tools. This means that classroom costs are significantly reduced, as students also do not need to rely on materials to experience the lesson. The use of interactive whiteboards also means that there is less reliance on physical resources for teaching, as everything is online. Rather than having to waste money on printing paper, classrooms are moving to a digitised learning experience, which reduces classroom costs.
How to Use an Interactive Whiteboard in the Classroom
So, it's obvious that there are many benefits of interactive whiteboards in the primary classroom. But how to use an interactive whiteboard in the classroom? There are so many ways to integrate a smartboard into your class lessons. When it comes to interactive whiteboard teaching, there are thousands of resources, ideas and properties at your fingertips.
When you first have an interactive whiteboard installed in your classroom, you'll be provided with informational resources on how to navigate using the electronic whiteboard. In the case of how to use an interactive whiteboard in the classroom more effectively, it really depends on the lessons you need to provide and who you're teaching. An interactive whiteboard can be used to organise information more effectively, provide digital charts and visuals for students, use the board for question and answer sessions and use reinforcing visual and audio features for students.
Want to know more about interactive whiteboards? You can check out the full range of Smart Boards at Whiteboards & Pinboards. The leading supplier of interactive and electronic whiteboards in Australia, we're the experts in combining technology and classroom pillars. We've also got an entire sector dedicated to an education hub, for classroom accessories, teaching products and online resources. Order an interactive electronic whiteboard today or get in touch with one of our experts to learn more about the benefits of interactive whiteboards in the primary classroom and your electronic whiteboard options.