When choosing the best whiteboard material for your space, it's important to consider each surface available, their qualities and which style is best suited to your whiteboard requirements. Traditionally, whiteboards only came in one material and style – enamelled steel. However, today, whiteboards are available in a wide range of materials, surfaces and varieties, which means that there really is a whiteboard for every setting.
Whiteboards are excellent communication tools for every environment – however, not all whiteboard surfaces are the same. If you're trying to work out what whiteboard material is best for your space, you've come to the right place. Australia's leading supplier of whiteboards, Whiteboards & Pinboards, offer an extensive and exclusive range of whiteboards for every type of working and learning environment. Working with the highest quality materials, we've broken down each available surface so you can choose the best whiteboard material for your office, classroom, community centre or home.
What Is the Best Material for A Whiteboard?
The purpose, setting and style of your whiteboard will influence the best whiteboard material for your intended use and location. Some surfaces are better suited for classrooms, and others may be better intended for commercial or workplaces. To help you make your decision on what is the best whiteboard material for your space, we've broken down the most popular whiteboard materials: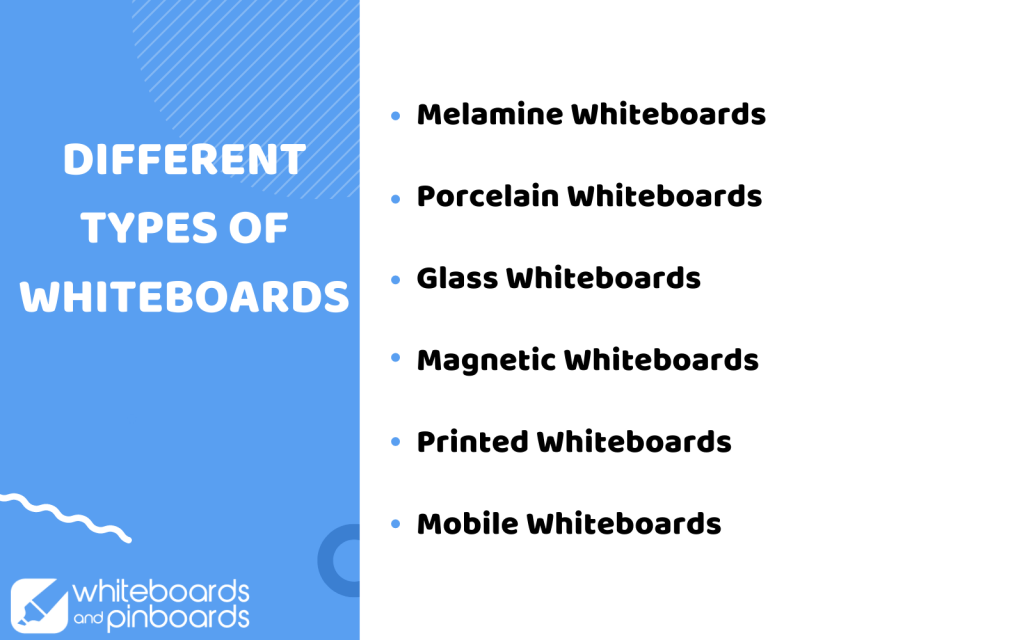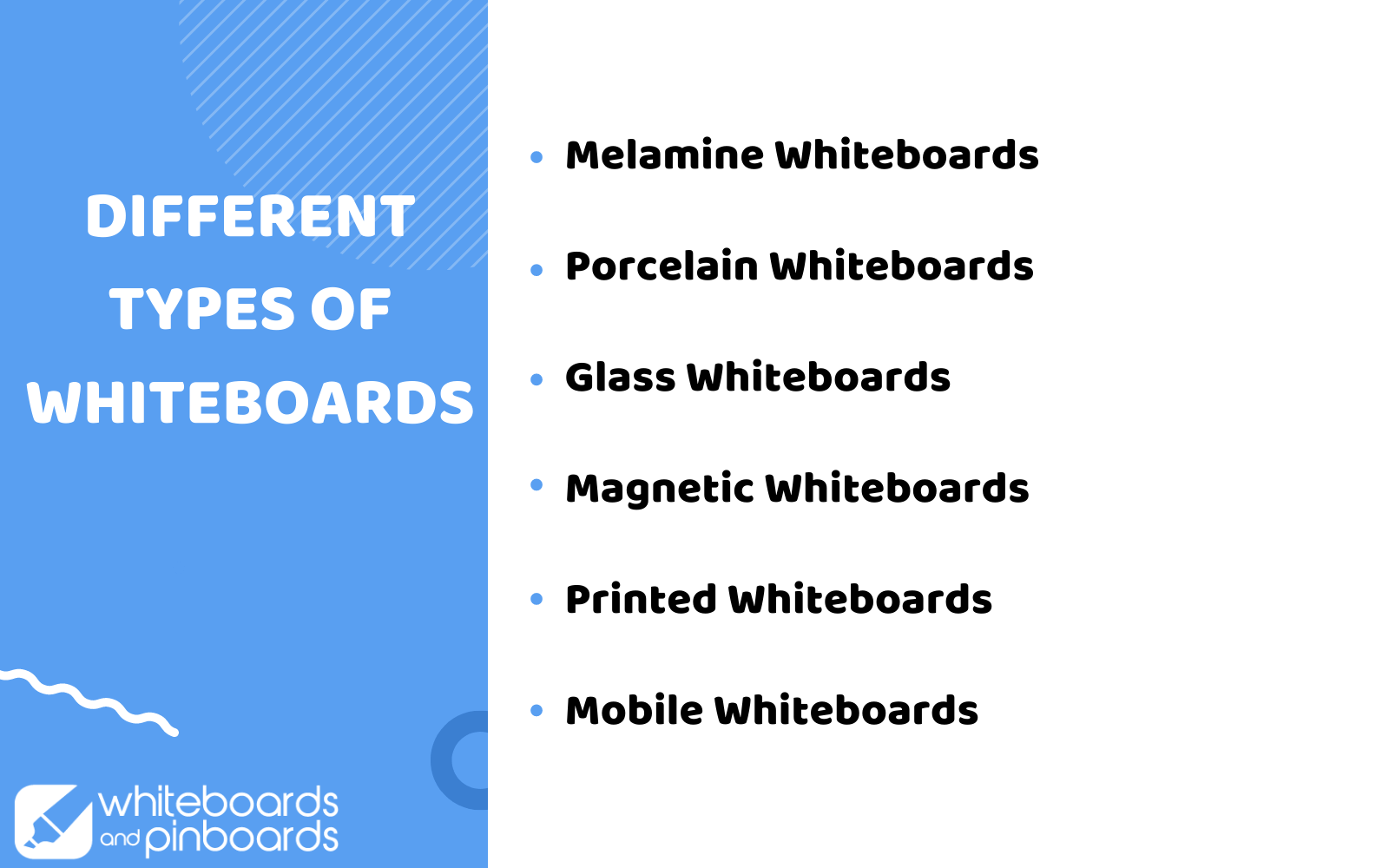 Melamine Whiteboards
Melamine is the lowest quality and least expensive whiteboard material available. Typically available in cheap dollar stores, melamine will generally wear down faster when compared to other whiteboard materials. The melamine backings are prone to warping and delaminating. Melamine whiteboards require frequent cleaning and will leave marks (ghosting) from whiteboard markers if left for more than short periods.
Steel Magnetic Whiteboards
These whiteboards are a step above a melamine whiteboard, featuring a steel backing with a high quality, smooth painted white surface. Our Standard Commercial Whiteboard is an example of a steel magnetic whiteboard. These boards offer a great blend of durability, quality, and value. Magnetic whiteboards are particularly helpful for those who need to add notes, display papers and use magnetic accessories. Many educational facilities will use magnetic whiteboard materials as teachers can use magnets to display student work, important notices, or teaching resources. Porcelain, glass and acrylic whiteboards can also have magnetic properties.
Porcelain Whiteboards
Porcelain whiteboards have a specially-made, baked enamel surface. They are ideal for heavy use settings like classrooms, higher education, meeting rooms, and businesses, as they offer superior protection against wear and staining, an extra-smooth writing experience, and great readability. Our porcelain whiteboards feature a PolyVision e3 CeramicSteel surface, which is long-lasting, durable, and includes multiple protective layers. The sheer strength and density of porcelain whiteboard surfaces mean that they last for many, many years without deteriorating. Porcelain surfaces are perfect for heavy use because they are much more resistant to damage, scratching, and chemicals, and their non-porous coating means markers are less likely to ghost or stain. We also recommend our Porcelain whiteboards for use with projectors, as their matte surface prevents reflection and offers the best visibility. Our porcelain whiteboards have a steel backing and so can be used with magnets, no problem!
Glass Whiteboards
Glass whiteboards are relatively new to the whiteboard market and are increasing in popularity. Glass whiteboards differ from other whiteboard materials as they present a tempered glass surface to write on. One of the more expensive whiteboard materials, glass whiteboards are scratch resistant, stain resistant, incredibly durable and non-porous. There is no ghosting on glass whiteboards, and the tempered materials mean that they often outlast most other whiteboard materials. Glass whiteboards are especially popular in commercial and office spaces, as they are available in a wide range of colours and styles to suit every type of branding and interior design. Their non-porous surface also gives them an incredibly smooth writing experience. A potential downside to glass whiteboards is their reflective surface, which can affect visibility in rooms with low-hanging lights, and makes them unsuitable for use with projectors.
Printed Whiteboards
Printed whiteboards are available in a wide range of materials. Whether you need a printed roster for your hospitality setting, a world map for the classroom or a daily planner for your family's busy schedule, printed whiteboards are fantastic organisational tools that can be used in a wide range of settings. Printed whiteboards are also particularly helpful for musical lessons, as music whiteboards have the permanently ruled music staves.
What Makes a Better Whiteboard Material? Porcelain or Glass?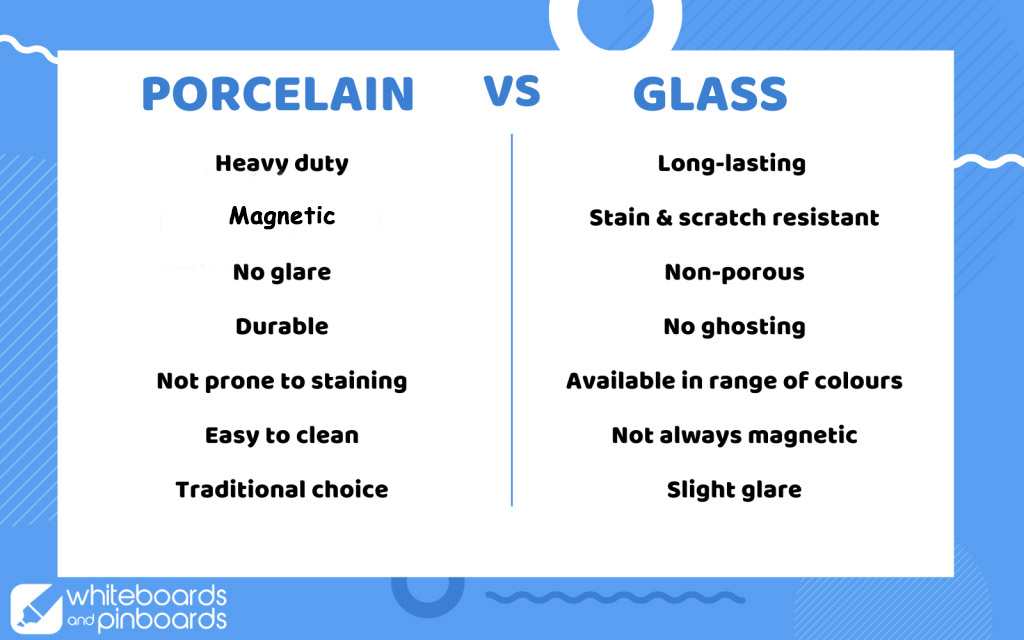 When it comes to what whiteboard material is best, it comes down to surface qualities. Porcelain is much more durable, long-lasting and easier to clean than a steel whiteboard. However, glass whiteboards are a step ahead of porcelain. Not porous at all, glass whiteboards prevent any unwanted ghosting, staining and marks. The ease of writing on glass also makes it a standout surface for whiteboard materials. What's more, glass whiteboards are available in a wide variety of sleek colourways; where porcelain whiteboards are typically only available in traditional white.
Glass whiteboards are made from tempered glass, providing an unparalleled scratch-resistant, dent-resistant and durability qualities. Glass whiteboards are also very versatile, often used in commercial spaces, homes, and educational facilities. If you're asking "What makes a better whiteboard material? porcelain or glass?", glass whiteboards come out on top for surface quality.
There are, however, some benefits to Porcelain whiteboards that are worth considering. Due to their matte white surface, a porcelain whiteboard will almost always provide optimal contrast and visibility. This also makes them great for use with projectors and for educational settings where readability is paramount. Glass whiteboard surfaces are slightly reflective, which makes them less suitable for rooms with low-hanging lights and for use with projectors.
Shop Whiteboards Today
Whether you're looking for your ideal whiteboard for your classroom, workplace, university or home, check out the full collection at Whiteboards & Pinboards today. If you still can't decide between porcelain or glass whiteboards, get in touch with our friendly support team, and we'll talk you through your options.
Going beyond the standard whiteboard materials available in Australia, Whiteboards & Pinboards also offer an extensive collection of custom whiteboards, mounted whiteboards, mobile whiteboards, music whiteboards, whiteboard planners, printed whiteboards and slimline whiteboards. The experts in all types of whiteboards, we're confident that we'll be able to provide you with your perfect whiteboard in our extensive range. Take advantage of our Australia-wide delivery, fast shipping and friendly customer service today at Whiteboards & Pinboards – we're here to make sure you find the best whiteboard material, for every setting.