Have you just purchased a new whiteboard for your classroom, workplace or home? Congratulations! Whiteboards are a fantastic tool to inspire collaboration, creativity and organisation. Now you've got to decide, Wet Erase Markers vs Dry Erase Markers: which one is best for me?
There are two types of whiteboard markers: wet and dry erase markers. It can be difficult to differentiate between the two visually; however, there is quite a difference between dry erase and wet erase markers.
Below, we'll run you through the positives and negatives of wet erase markers vs dry erase markers.
Wet Erase Markers vs Dry Erase Markers
Both wet and dry erase markers have distinct advantages that make them more effective in certain situations or on differing surfaces. Where dry erase markers are perfect for temporary markings, wet erase markers are semi-permanent and thus it could be beneficial to consider purchasing both to provide flexibility.
Let's look at wet erase markers vs dry erase markers in more detail to better figure out their benefits.
Wet Erase Markers
Wet erase markers can be used on non-porous surfaces such as whiteboards, glass, metal, mirrors, plastic and black marker boards, making them a great multi-purpose product. Wet erase markers use a paste-based ink that has semi-permanent qualities. Wet erase marker can only be removed with a damp tissue or cloth as a result. Drawing over it with a regular dry erase marker will not remove the markings.
The wet erase marker's semi-permanent qualities are most commonly used for things like templates, calendars, schedules, signs, or display boards. Moreover, you'll often find wet erase markers frequently used in outdoor settings due to their heat resistant abilities. When analysing wet erase vs dry erase, it should be said that wet erase markings will not fade or bubble under intense heat and as such is perfect for illuminated boards or whiteboards under projector lights.
Example situation
You own a restaurant and have a set menu of specials or drinks. It would be preferable to use a wet erase marker in an illuminated space full of people due to its semi-permanent nature and heat resistant qualities.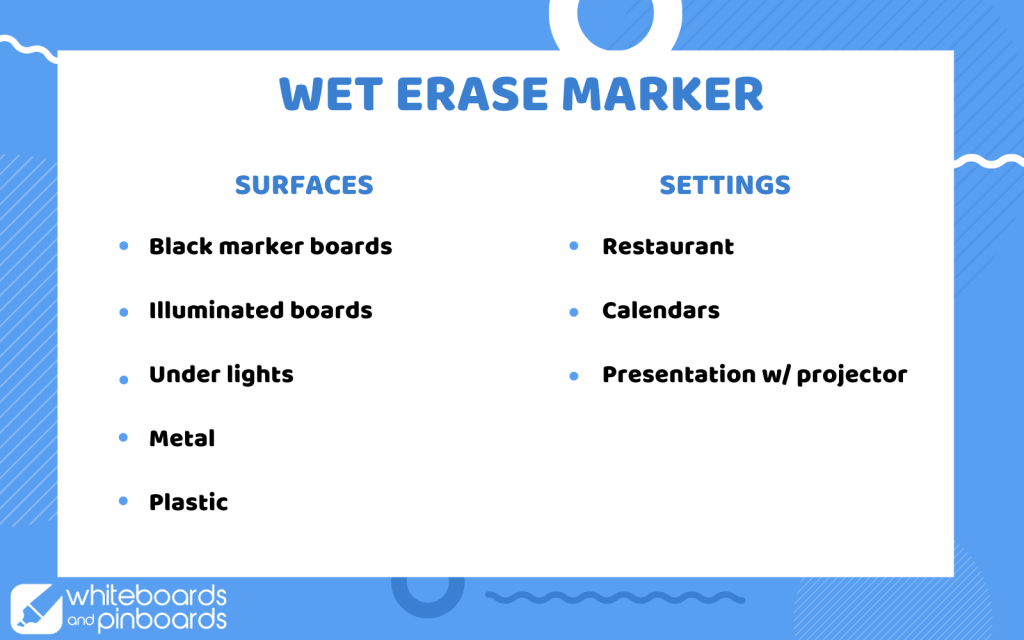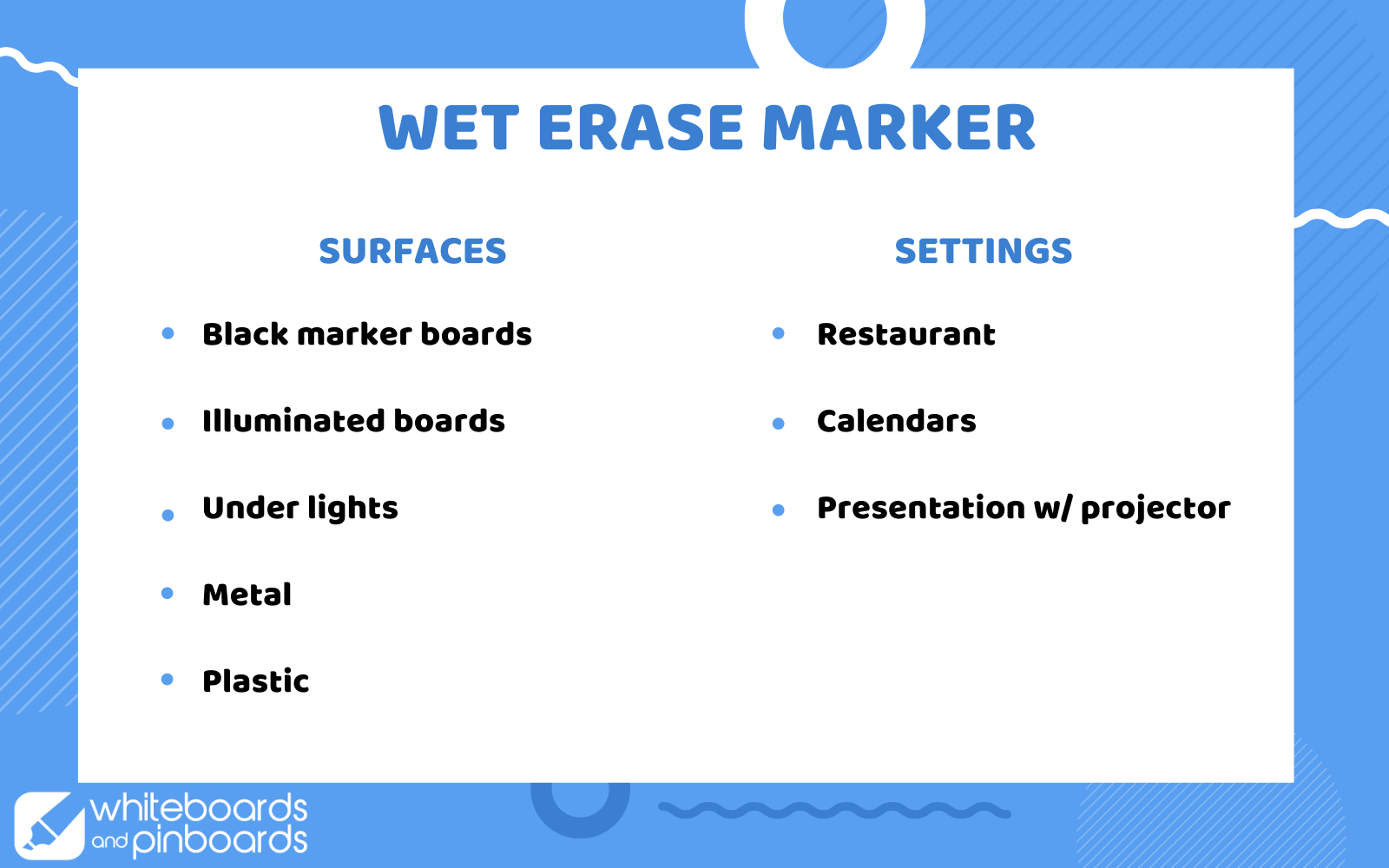 Types of Wet Erase Markers
Liquid Chalk Marker
A liquid chalk marker is specifically made for writing on chalkboards and to give the appearance of chalk. This type of marker is also commonly used on glass, plastic and metal surfaces, and mirrors. A liquid chalk marker is the ideal selection for promotional messages or display in service settings.
Rainproof Marker
A rainproof marker is, well, you guessed it, rain-resistant and will not smudge or fade away when wet. This is the perfect marker for use in outdoor settings.
Neon Marker
Neon markers are vibrant and fun, fit for use on a range of surfaces. A neon marker is a sure way to create a creative and engaging advertisement.
Shop our Most Popular Categories
Dry Erase Markers
Dry erase markers are the most commonly used type of marker. Just like the wet erase marker, dry erase markers work on whiteboards, signboards, glass or any other kind of non-porous surface. The most significant difference between dry erase and wet erase markers is that dry erase markers are easy to wipe away, making them the best selection for temporary use. The ink can be easily erased with a whiteboard eraser or piece of cloth.
The dry erase marker's temporary nature is most suitable for settings such as classrooms for lecture points or diagrams, office spaces for charts and presentations or restaurants and bars whereby the specials change daily.
When considering wet erase markers vs dry erase markers, sometimes dry erase markers can have a discerning chemical smell that can cause headaches or even potentially incite allergic reactions. Whilst there are dry erase markers on the market that are sold as 'low in odour', it is important to note that wet erase markers do not come with a strong chemical smell. If you're sensitive to odours and allergies, the wet erase marker might be a better choice for you.
Are dry erase markers water soluble? No, dry erase markers are not water soluble and hence are not suitable for wet environments or surroundings.
Wet and Dry Erase Marker Styles
Both wet and dry erase markers come in a variety of shapes, size and style. When choosing the right marker for you, first understand whether you want the writing to be fine and clear-cut, large and bulky or somewhere in the middle. You should also factor in the size of the surface you are writing on and the type of message conveyed.
Fine Point Marker
Fine point markers are an excellent choice for writing descriptions or filling in details. It is quite similar to a pen – use for quick notes or drawings.
Medium Point Marker
Medium point markers are typically used to write on small surfaces. This type of marker is good for precise writing and broad lines.
Chisel Tip Marker
The chisel tip marker can provide broad, medium and fine lines all in one depending on your situation or writing style. Perfect for a range of uses due to its flexibility.
Bullet Tip Marker
Bullet tip markers give width to your markings, providing broad strokes. This type of marker is best used for display in spacious rooms where people of all eye strength need to be able to see the writing on the board.
Wide Tip Marker
Typically possessing a 2" width, wide tip markers cover a lot of surface area. Wide tip markers are used for writing large letters and words most commonly on signs and display boards.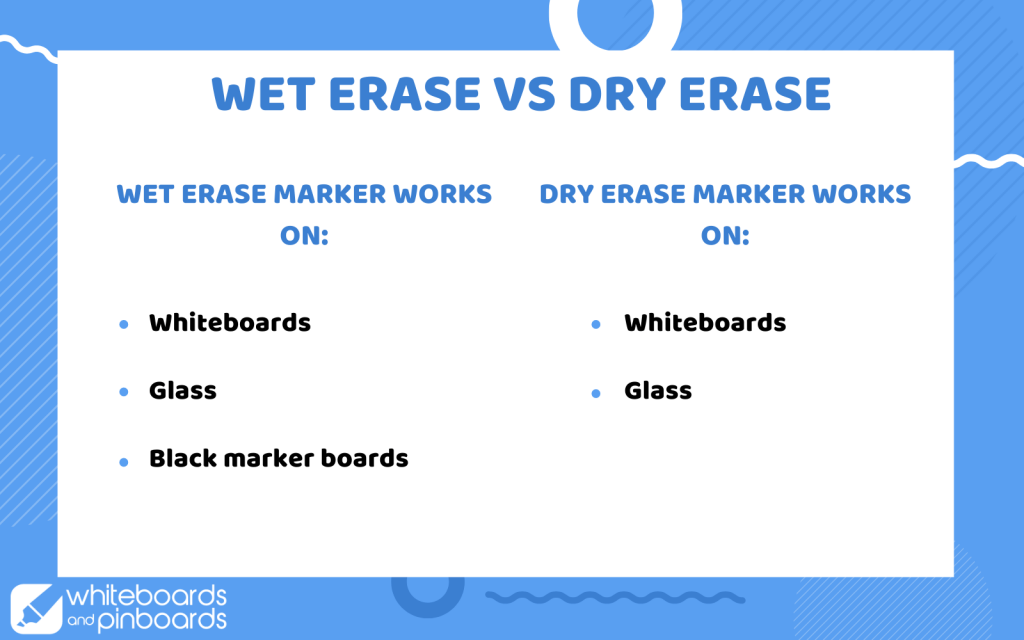 Wet Erase Markers vs Dry Erase Markers: Which One Should I Choose?
Your selection of wet erase markers vs dry erase markers is entirely dependent on the situation and setting. Both markers have their strengths and disadvantages or only work on specific types of surface. If you're looking to be flexible when it comes to all things whiteboards, it's not wet erase vs dry erase, it's wet erase and dry erase.
What are you waiting for? Shop online today at Whiteboards and Pinboards and receive everything you need to get started including whiteboard markers and accessories. For exclusive educator discounts, visit our Education Hub!