Wondering how to divide a room without a permanent wall? It's a common conundrum that most of us have faced in one way or another: You're either mapping out your new living space, trying to maximise space in your office, or need to divide a classroom. Figuring out how to divide a room without a wall is the key to successfully segregating your area.
Whatever the area is required for, working out the best ways to divide a space is critical to ensuring each section is still functional and the room division does not create an eyesore. Thankfully, Whiteboards & Pinboards are here to provide you with the perfect solution.
In this article, we'll be discussing how to divide a room by providing six innovative ways to divide a room. We've got a bunch of room divider ideas and room dividing solutions such as dividing screens and acoustic barriers. Whether you're trying to set up an office space or divide up your living arrangements, there is certainly a solution for everyone.
Here at Whiteboards & Pinboards, we pride ourselves on our innovative, functional and versatile products that provide assistance in working, classroom and living environments. As such, we're somewhat of an expert when it comes to experimental room divider ideas. Read on to find out how to divide a room without a wall from our leading furniture and accessory experts.
How To Divide A Room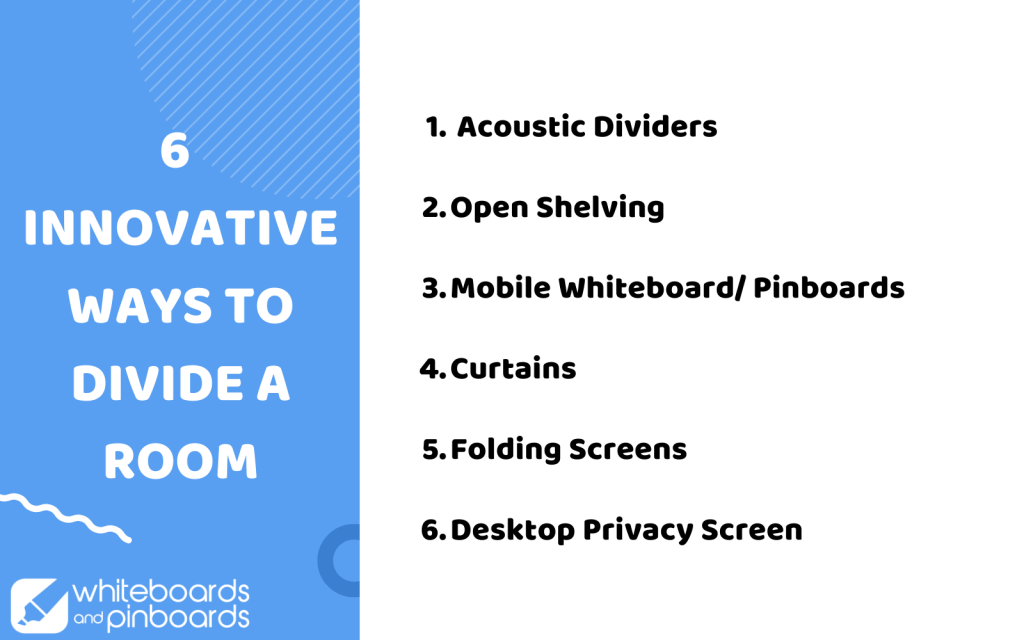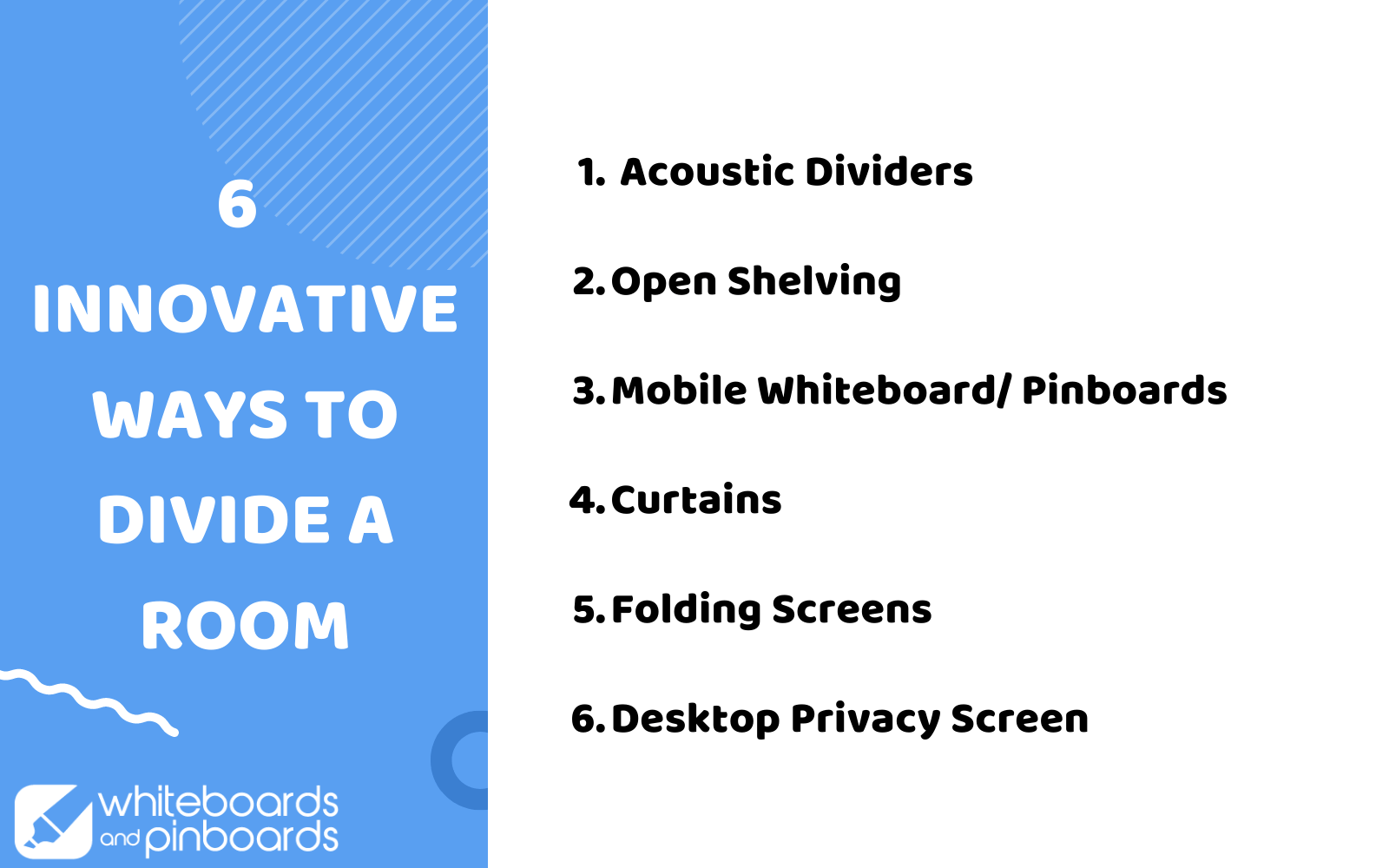 Acoustic Dividers
If you're looking for some room divider ideas that also provide the added benefit of sound absorption, then what you're looking for is an acoustic divider! Acoustic dividers are excellent pieces of furniture that can create secluded spaces without the distraction of reverberated noise. How to divide a room with a temporary wall? Invest in some quality acoustic dividers.
Acoustic dividers work with an added surface of the sound-absorbing fabric. Ideal in environments where you need temporary sectioned off quiet areas, acoustic partitions are commonly used in commercial, corporate, creative and classroom spaces. However, an acoustic divider would provide an ideal solution if you're wondering how to divide a room within your house if noise is one of your primary concerns.
At Whiteboards and Pinboards, we offer a range of acoustic room dividers that are ideal for working and learning environments. However, our acoustic divider screens can also be utilised in your home to help to divide a room without a wall.
Shelving
Regardless of the space, you're trying to divide, one of the most innovative ways to section off spaces is by utilising shelving. You can stock shelves with books, storage boxes or even plants to provide a solid division between two spaces.
If you're concerned with how to divide a room without blocking out too much natural light or space, you can utilise open shelving to maintain a sense of spaciousness and cohesion. Open shelving is also great to store files, organisational folders, and objects that need to be accessed on either side of the division.
While creating an effective room divider in your home, office or classroom, shelving designs also provide an opportunity to display precious mementos, objects and accessories.
Mobile Whiteboards or Pinboards
One way to divide a room is to utilise a mobile whiteboard or pinboard. Not only does using mobile boards increase the versatility and flexibility of your room division but using a pinnable or whiteboard will also deliver a surface to make visible notes, brainstorm ideas or keep organised.
Functional and extremely versatile, mobile whiteboards and pinboards are extremely convenient in working and learning environments. They're typically on wheels and are very easy to adapt to a new environment. Most have casters to lock boards in for stability, and they are often double-sided – meaning that the convenience of the whiteboards surface or pinboard fabric can be utilised by both sections of the divided space.
Here at Whiteboards and Pinboards, we stock a wide range of mobile boards – we've got whiteboards on wheels, portable pinboards and magnetic boards to suit a variety of work, educational and living arrangements.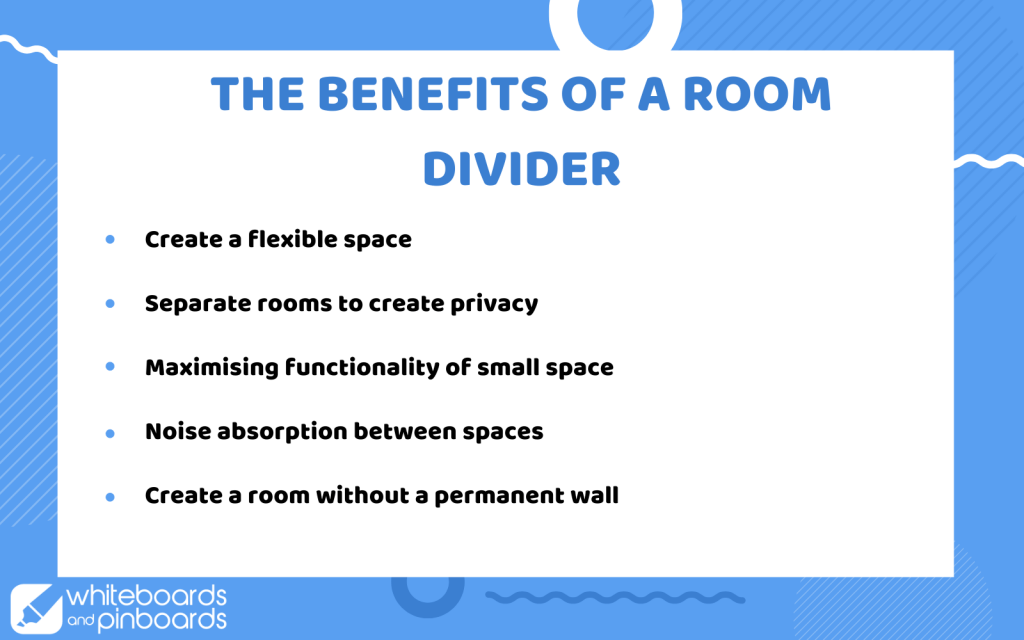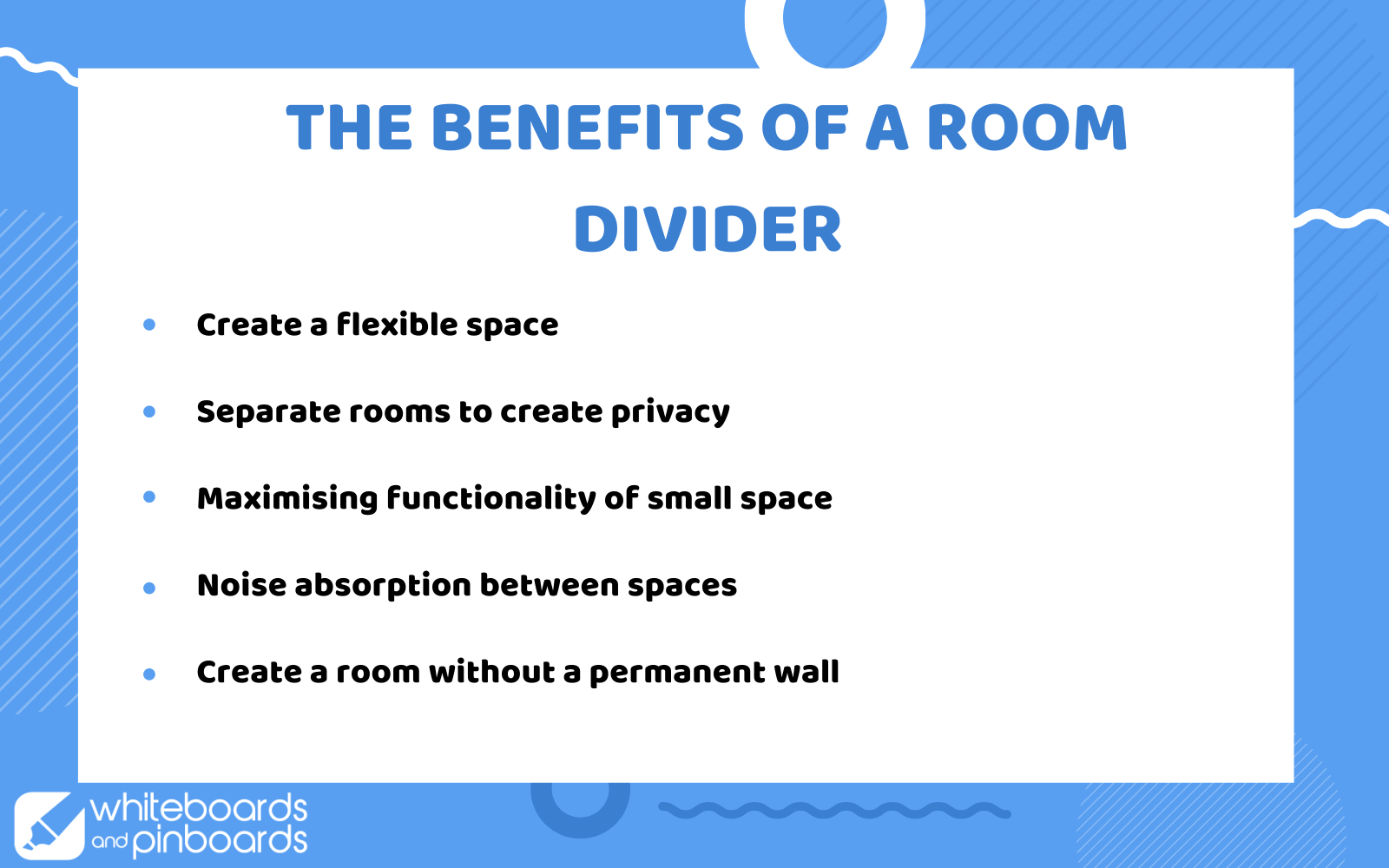 Curtains
How to divide a room to separate your sleeping quarters? Use curtains! If you're pressed for space between your bed and other areas of your home, some dark, drapey curtains will do the job. If you don't have space for a temporary divider, mobile board or screen, separating spaces by using fabric can make a world of difference.
Folding Screens
Similar to room dividers and acoustic dividers, folding room divider screens make for a great temporary partition between two spaces. If you're wondering how to divide a room with a temporary wall and without using a solid, unmovable object in the middle, folding screens are fantastic room divider screen ideas that epitomise flexible and versatile room division. The beauty of using folding screens is that you can generally find nice styles that may be suited to your individual interior design taste, and of course, they can be folded away, taking up less space.
Desktop Privacy Screens
If you're looking for affordable, easy and effective room divider ideas for the office, have a look for some desktop privacy screens. Ideal for open-plan offices, desk screens allow employees to have their own individual space; allowing them to get in the zone without distractions, without disrupting the cohesion of an open and shared space.
Shop Room Dividers with Whiteboards & Pinboards
Hopefully, you've now got a better idea of how to create a divided room that is still functional, flexible and will be able to meet the needs of your space. Whether you're looking to divide your living room, your classroom or your working environment, there are a variety of solutions for room dividers.
You can start by shopping the full range of room dividers, including acoustic dividers and pinnable dividers today at Whiteboards and Pinboards. The experts in functional, versatile and contemporary, stylish accessories for every space, we've got your division needs covered. Speak to one of our specialists today to learn more on 1300 849 152.