Description
Autex 3D Acoustic Tiles – Prism (S-5.37) are a perfect acoustic feature for a wide range of environments including education, retail, hospitality, and commercial interiors.
Available in 15 colours, they are a stunning design element that adds character and uplifts any space while also improving room acoustics. Two mounting options are available that allow for nearly unlimited creative placement: a direct fix to walls and ceilings, or a purpose made tile to drop into suspended grid ceiling systems. Different colours can be mixed and matched for visual effect, and there are 8 different designs to choose from.
Each tile is made from 100% polyester fibre (>55% post-consumer recycled material) and effectively reduces sound reverberation across middle and high frequency ranges. In this way the Autex 3D Acoustic Tiles contribute to more comfortable interiors with reduced sound travel. The tiles are a durable long term solution and are easy to clean and maintain.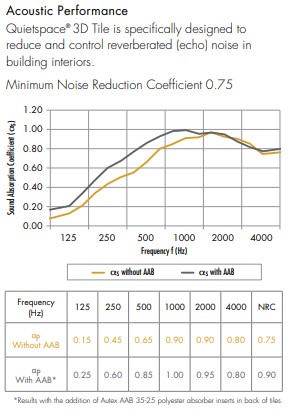 Features
Decorative 3d feature acoustic tiles
Made from >55% post-consumer recycled PET and fully recyclable at end of life
Specially engineered for acoustic performance
Heavy duty and long lasting
Lightweight and easy to install
Low-VOC and fire rated
NRC (noise reduction coefficient): 0.65 (can be increased using acoustic insulation infill)
6 wall tiles or 8 ceiling tiles per box
Wall tile dimensions: 575 x 575mm
Suspended grid ceiling tile dimensions: 595 x 595mm (please see the installation instructions under the 'Assembly & Documents' tab for more information)
Depth: 140mm
A wider range of colours is available with a minimum order quantity of 14 boxes. Please see the colour document under the 'Assembly and Documents' tab and contact our team to enquire
10 year warranty
Further improve the acoustics of your school or office with our full range of Autex acoustic products
If your ceiling is not a suspended grid ceiling, please select wall mount so that you receive the appropriate brackets.
This product is made to order with a 6-8 week lead time.