Whether it be from home, within a large building, or something in-between, modern and flexible office spaces can suffer from noise pollution if they are not adequately insulated. Open-plan workspaces are excellent for creating welcoming environments and encouraging collaboration among colleagues. However, an open-plan working environment's downfall is the distracting sounds and visuals exhibited by the individuals who share the space.
There is a straightforward solution for noise pollution; Autex acoustic panels. But what is Autex? And how do they help to create a more productive work environment? As leading retailers of various quality office furniture, we have a wide range of Autex acoustic panels available online. In this article, we will outline what Autex is, the types of panels available and the benefits of Autex for your workspace.
What Is Autex? Defining Autex
Autex is a sustainable acoustics and insulation solution, offering noise-dampening solutions for shared workspaces. Autex Industries is a global company that are leaders in providing innovative acoustic solutions to workplaces. The ultimate aim of Autex is to improve the productivity of employees and the health and well-being of office occupants. Now that we have answered the question, "what is Autex?", let's move on to the type of Autex wall coverings and other available configurations.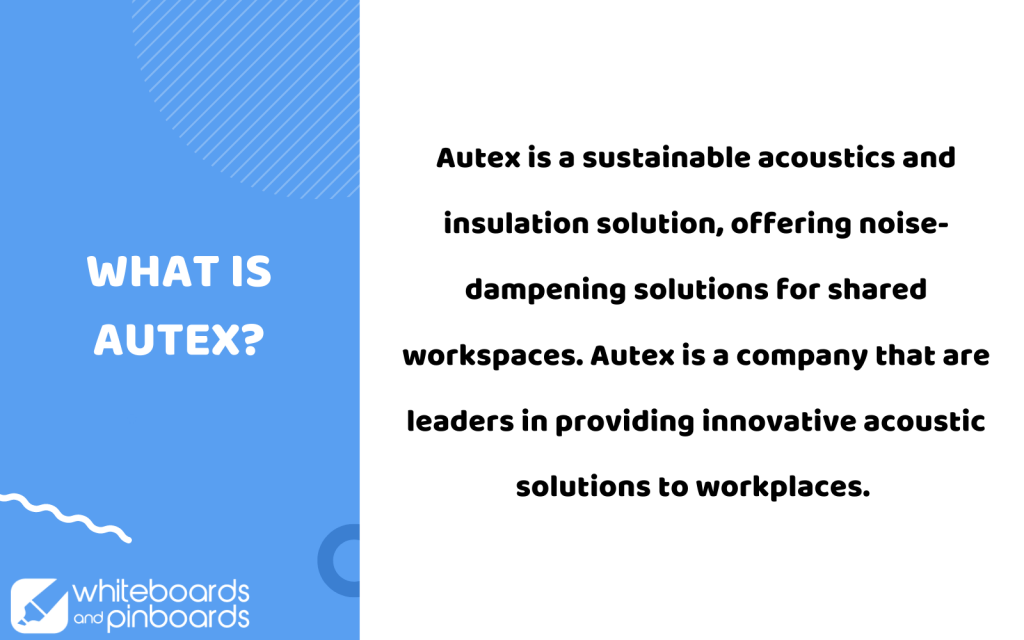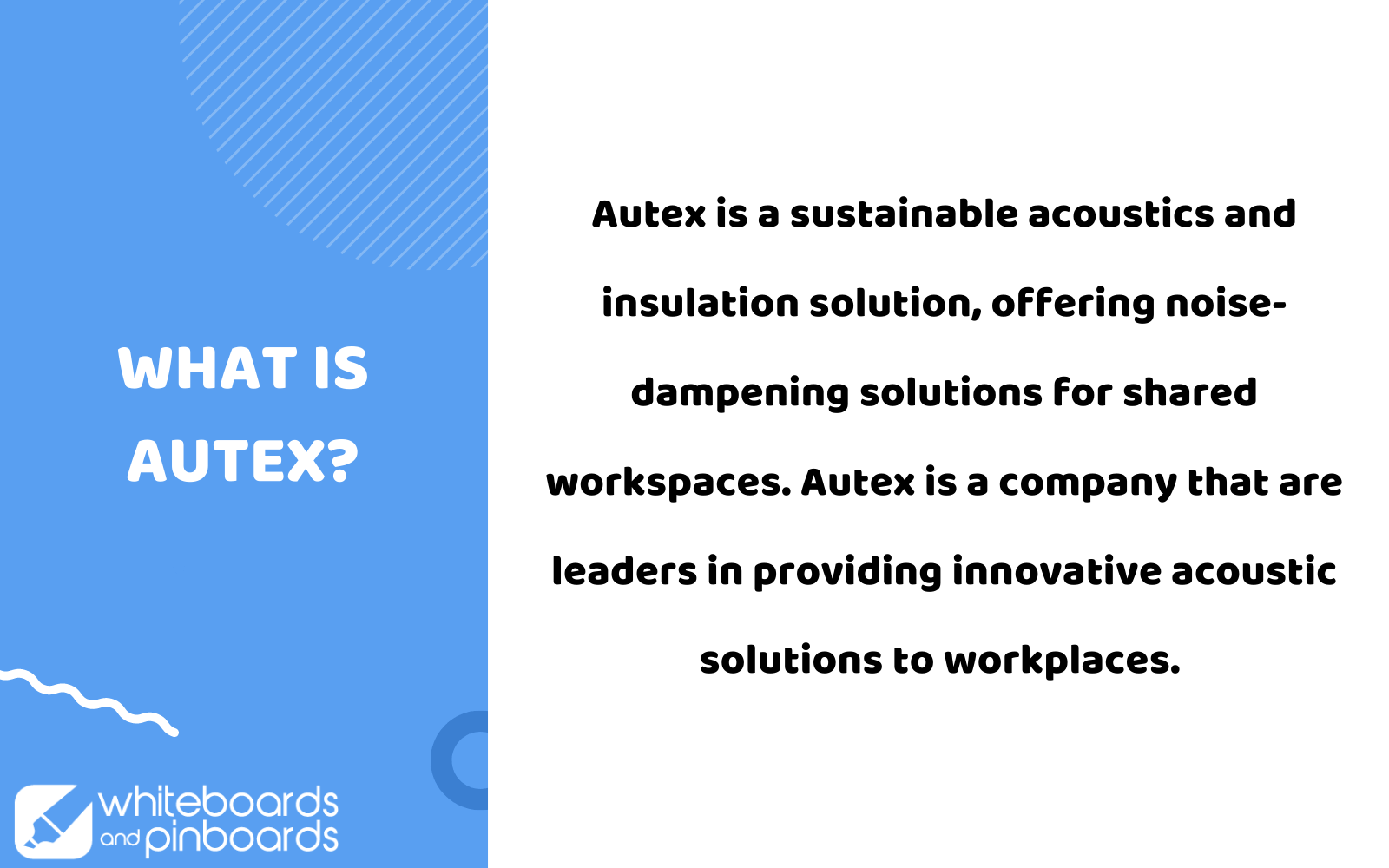 Types of Autex Acoustic Panels
Before you can understand what Autex is best utilised for within your organisation, it's beneficial to understand the entire range and variety of versatile offerings of Autex wall coverings.
Peel' N' Stick Acoustic Pinnable Tiles
Aside from the question, "what is Autex?", the second most common enquiry our expert team receive is "what are Peel' N' Stick Pinnable Panels?". Peel 'n' Stick Acoustic Pinnable Panels are 600mm x 600mm fabric tiles with an adhesive backing for convenient installation. They are available in a variety of colours for easy styling and significantly reduce echo.
Cube Acoustic Panels
Autex Cube Acoustic Panels are suitable for commercial use and sound-absorbing properties. Autex Cube panels are an excellent product for working environments because they are multi-purpose. They can be used as purely functional acoustic panels or as a vibrant feature wall in an office space – the choice is yours!
Partition & Vicinity Screens
When considering what is Autex best used for when incorporating the product into an organisation, one of the most useful office applications is from the Partition and Vicinity Screens. Super easy to install with clamps, the screens are a perfect solution for those who may have a noisy neighbour in a shared working space. Creating a physical, noise-absorbent barrier between workers is a fantastic option for those looking to increase focus if they are affected by noise pollution in the office.
3D Acoustic Tiles
3D Autex Wall Coverings come in both pyramid and sphere designs and are an excellent solution for reducing reverberation and unwanted noise. They function as insulation and a stylistic feature in co-working offices in two stylish and innovative designs.
Cascade Hanging Screens
These portable screens are available in a range of Autex cascade folding, cascade expanding, or cascade hanging static screen styles; these mobile screens are an acoustic solution for open-plan spaces. The Cascade Hanging Screens feature a sophisticated kinetic pattern and double as an aesthetic office separator whilst improving acoustic performance in open-plan offices.
Ceiling Tiles
Autex insulation is also available in Ceiling Tiles and is an environmentally friendly sound control solution. Lightweight and functional in various colours, the ceiling tiles can add to the aesthetics of your office environment and complement branded colour palettes.
Freestanding Pinboards
As a business that deals primarily with whiteboards and pinboards, our favourite Autex insulation solution are the Autex Freestanding and Mobile Pinboards. Offering the most flexible solution in terms of mobility and multi-purposefulness, the boards are 100% recyclable.
There are several other applications of Autex insulation configurations that we recommend checking out on our website.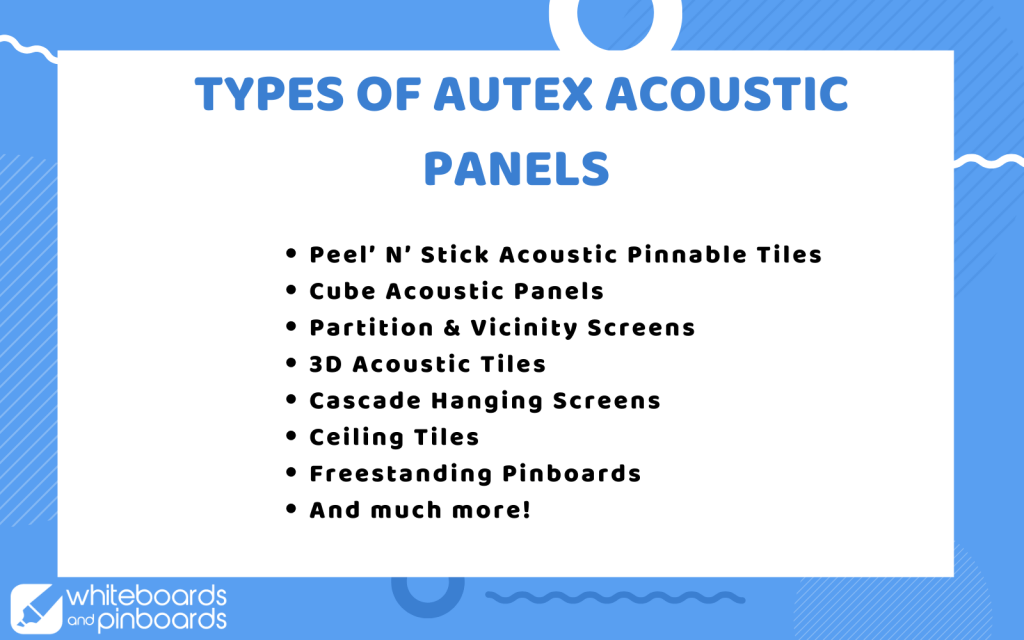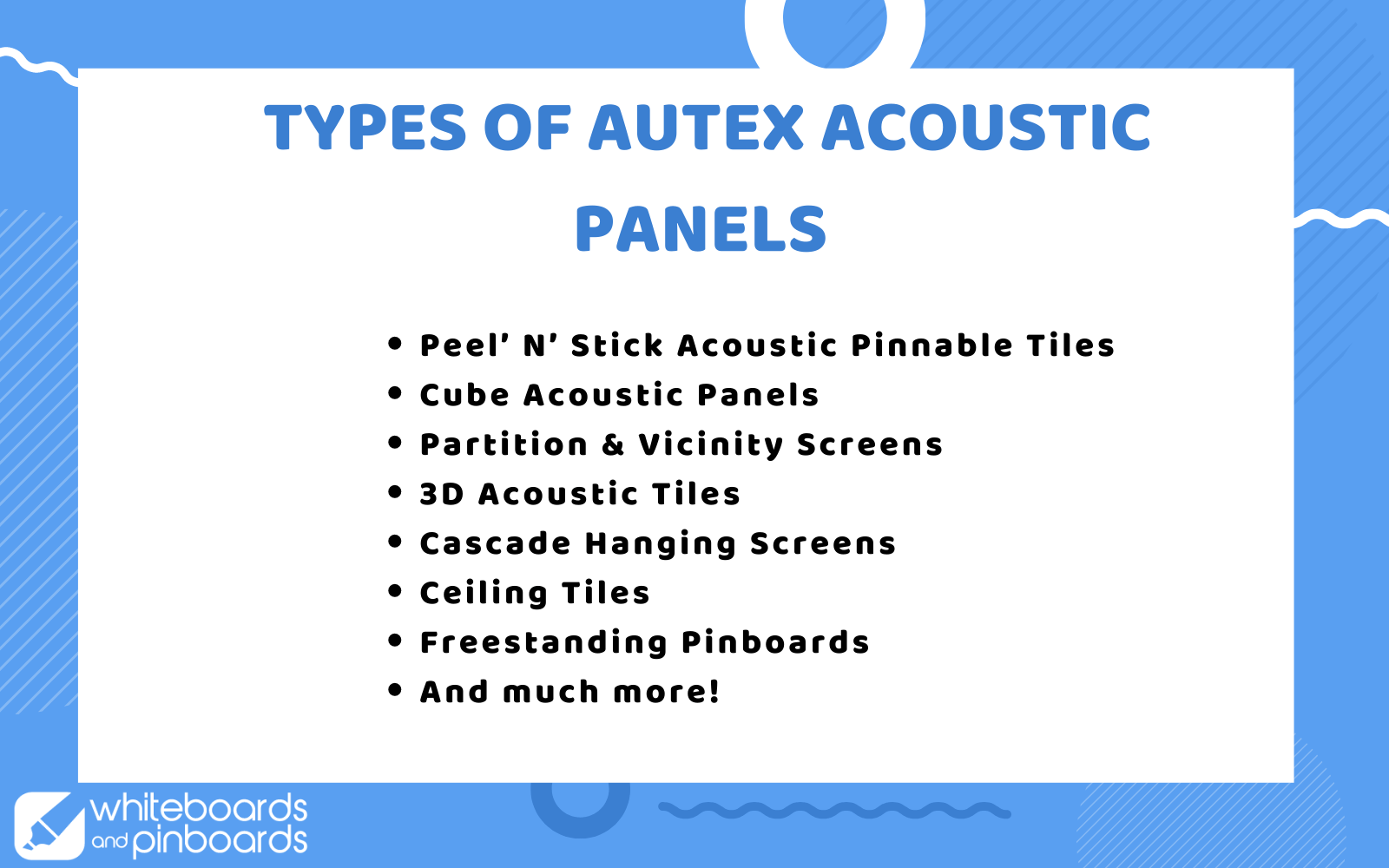 The Benefits of Autex
There are several benefits of Autex when it comes to noise-polluted working spaces, including easy installation, noise absorption, increased productivity and an overall improvement in office aesthetics.
Easy Installation
Each of the panels produced by Autex is lightweight and convenient to move in or out of office spaces. Additionally, some Autex options feature an adhesive backing, making them super easy to place and stick to walls in corporate and home offices alike without professionals' interference.
Noise Absorption
Using innovative and stylish latticework designs, the Autex solutions effectively reduce unwanted echo and noise, both in open-plan offices or smaller spaces used by numerous individuals. Our Autex offering is one of the most effective sound optimisation solutions available in Australia.
Increased Productivity
Countless workplaces have reported on increased levels of productivity within co-working spaces. Whether the use of the product effectively blocks visual distractions or audio interferences, Autex has contributed to improved efficiencies among many businesses.
Office Aesthetics
Lastly, Autex solutions are stylish solutions that can elevate the look of any space. Available in a variety of different colours and styles, the panels have a high-quality finish and have improved the overall look and feel of office spaces around Australia.
Autex Solutions for Your Organisation
You should now have a pretty comprehensive answer to the question, "what is Autex?" and should know whether Autex panels will be a good fit for your organisation. As well as being effective noise optimisers, Autex panels are environmentally friendly, reusing and recycling materials wherever possible. We're proud to be leading suppliers of this innovative and progressive brand that values sustainability.
If you are interested in these products, our team is waiting around the clock to take your order. If you have any further questions regarding what is Autex best used for, please contact our friendly team for further consultation.