What if we told you a whiteboard doesn't have to be white?
Traditional whiteboards may be highly practical, but many workplaces are looking for a stylish alternative to better match their modern aesthetic.
Glass whiteboards have a sleek, modern look and several advantages over regular whiteboards, making them increasingly popular in offices.
The ultra-contemporary look of a glassboard is a quick way to freshen up your office. When not in use, they double as a striking wall feature that will capture the attention of visitors and give your space a more modern feel. On top of this, they are available in virtually any colour (including clear) so you can customise a board to match any room (see below!).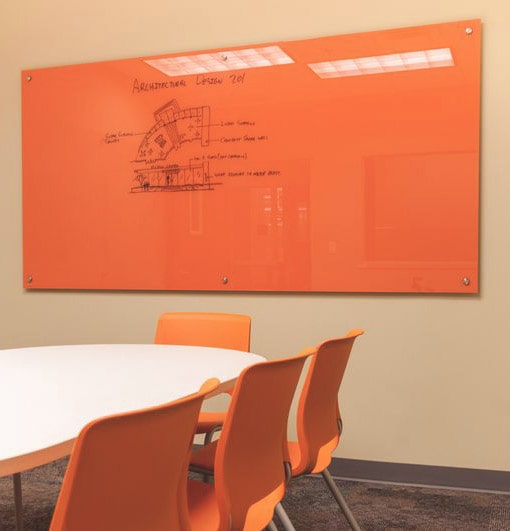 While glass whiteboards are much more attractive than traditional boards, they have also have several features which make them better all-round performers.
Boards made with non-porous tempered glass are scratch and stain-proof, meaning there will be no ghosting or leftover writing after erasing – no matter how long ink is left on! Accidentally used a permanent marker? No-one will ever know, as any type of ink can be removed from these surfaces.
A glass whiteboard is also the most durable choice as a notice board, brainstorming board and other heavy-duty uses, with glass lasting much longer than other surfaces.
The frameless design allows you to seamlessly join multiple boards together to create a functional and stylish communication board to suit your needs.
Functionality combined with cutting edge design makes glass whiteboards perfect for a wide range of uses in your office:
Task list
Keep track of everyone's workload with a to-do list. Mounting the board in a central area that everyone can see and add to will be a big boost to productivity. A ghost-free glass surface is ideal for something like this due to the constant erasing and re-writing.
Brainstorming
Get the creative juices flowing with a brainstorming board. Pick a creative colour like blue to encourage ideas and bring a more exciting feel to an ideas session than a plain whiteboard. A durable non-porous surface is ideal for this use.
Roster/schedule
Stay on top of time management with a schedule board. Custom printed glass whiteboards allow you to print staff rosters, cleaning schedules and any other timetables you need to mount in the kitchen or common area.
Message board
As a quirky way to boost team morale, why not give staff free reign to write whatever they want on the board? Jokes, ideas, accomplishments and quotes can all form a shared communication board that the whole team feels part of.
Think a glass whiteboard (or several) will be a useful addition to your office? Check out our range of standard and custom glass whiteboards here.