Wondering how to use a whiteboard for organisation? You've come to the right place. A whiteboard is an excellent tool for many environments. While we're heavily reliant on technology for many aspects of our life, whiteboards are a fantastic tool to provide physical, visual representation for team or personal organisation.
However, many whiteboard users struggle with how to organise a whiteboard for both functionality and effectiveness. It may seem silly, but a disorganised whiteboard can contribute to poor performance, lack of motivation and a decrease in productivity. Whether you're in the workplace, the classroom or your home, learning how to use a whiteboard for organisation is crucial to maintaining a helpful visual representation of your tasks, ideas, scheduling or charts.
It's all well and good to purchase the right accessories to make your environment more organised, but it can be tricky actually implementing them and ensuring whiteboards genuinely enhance your day-to-day activities. One of the best ways to get started is by scouring for whiteboard ideas and tips and tricks from other professionals. On that note, here are our top tips for whiteboard ideas and how to use a whiteboard for organisation:
Gather Whiteboard Ideas
What are you using your whiteboard organiser for? Are you creating a list of reminders, a checklist of tasks to complete, a schedule for today's meetings, a chart for visual representation or a menu for tonight's dinner? Whatever environment you're using your whiteboard in, be sure to have an idea of what you want to use your whiteboard organiser for and keep it focused.
If you're having trouble deciphering what to prioritise on your whiteboard, have a look for some whiteboard ideas online. Whiteboards are great for conference rooms, desks, family kitchens, classrooms and community facilities. Here are some basic whiteboard ideas to get you started: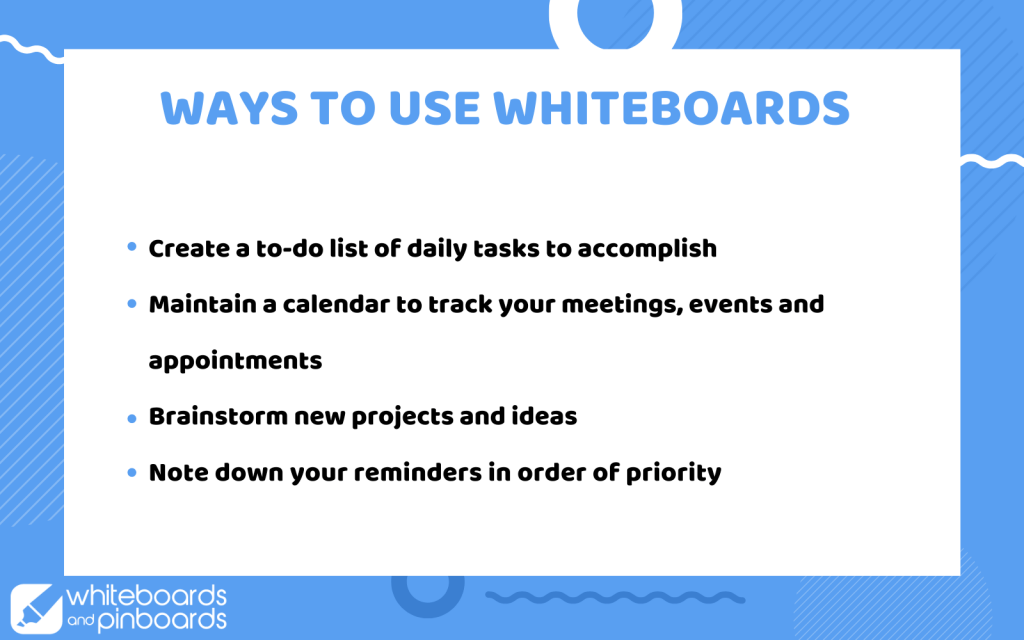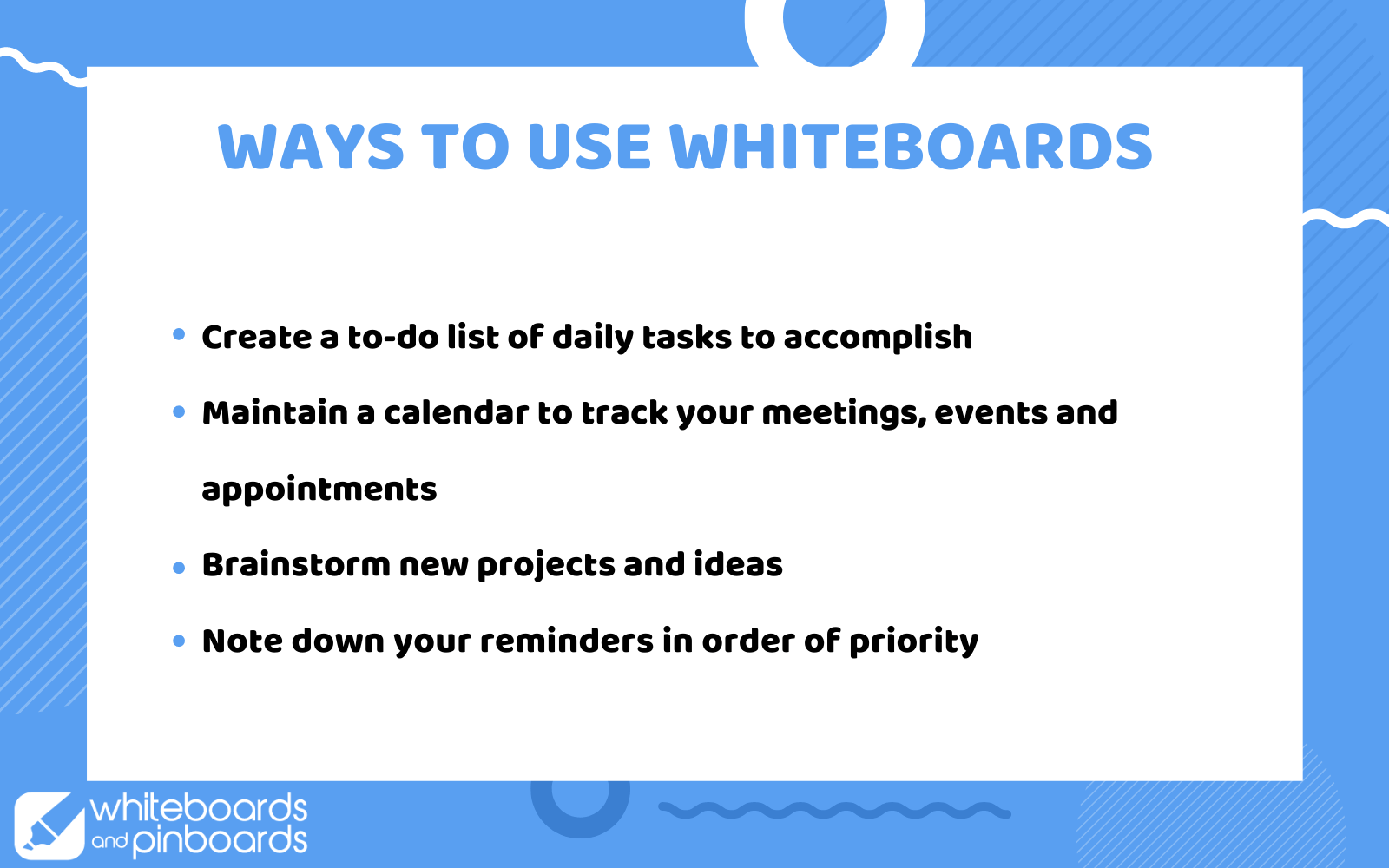 Create a to-do list of daily tasks to accomplish

Maintain a calendar to track your meetings, events and appointments

Brainstorm new projects, ideas, processes

Note down your reminders in order of priority
Use A Weekly Organiser Whiteboard
One fantastic way for how to use a whiteboard for organisation is to implement a weekly organiser whiteboard, which can be used in a wide range of environments. If you're studying, a weekly organiser whiteboard can be used to stay on top of classes, due coursework, exams and practical requirements. If you're working from an office, weekly organiser whiteboards can be used to plan your Monday to Friday work, ensuring that you've got all of your meetings, tasks and deadlines all displayed in one place.
Weekly whiteboard organisers are also great for keeping the whole family organised. If you're someone who tackles the busy schedule of a family each day, you know how hectic it can be trying to stay on top of every meeting, appointment, practice, school excursion and social event. Weekly organiser whiteboards or pre printed whiteboards in the home are practical and fun ways to schedule everyone's daily activities, plan meals and keep on top of household tasks and chores.
Design Your Whiteboard Productivity Layout
When executed well, whiteboard organisation helps a person, or a team of people, stay productive. If you're wondering how to use a whiteboard for organisation, we recommended designing a whiteboard productivity layout that will keep everyone on task. Designate a particular area of the board for each line of thought, task, or checklist item. Or, create columns for different objectives.
Whichever suits you or your team; the key is to ensure that each task, idea or reminder has its own area on the whiteboard. Suppose there are stray reminders mixed in with brainstorming ideas, appointments and basic to-do tasks. In that case, it can be very challenging to stay focused without getting distracted by random writing on a whiteboard. A whiteboard productivity layout will ensure that everything you need to have visually represented has its own space on the board, and each point can be tackled one by one.
Use Colours for Whiteboard Organisation
Using coloured whiteboard markers is how to organise a whiteboard 101. For a visual communication tool, colours are great for creating a dynamic way to assess and interpret information. The use of bright colours captures attention, ensures readers stay focused and is incredibly stimulating for visual learners.
If you're making lists for different employees in the workplace, each employee's tasks should be written in a different colour. Or each qualification set should be in its own colour. If you're trying to stay organised in the classroom, using different colours can help to prioritise and break up writing on a whiteboard when teaching. Using different colours helps to differentiate information and is much easier to approach and read than one big block of text in the same colour. Using colours on your whiteboard is an excellent way to stay organised and productive, wherever you're working, learning or using it from.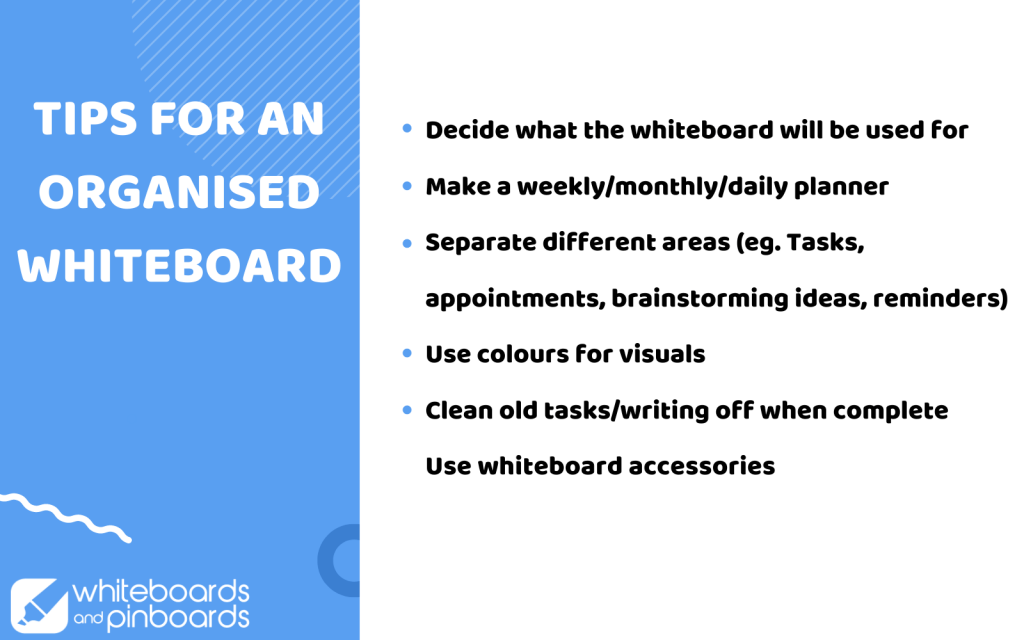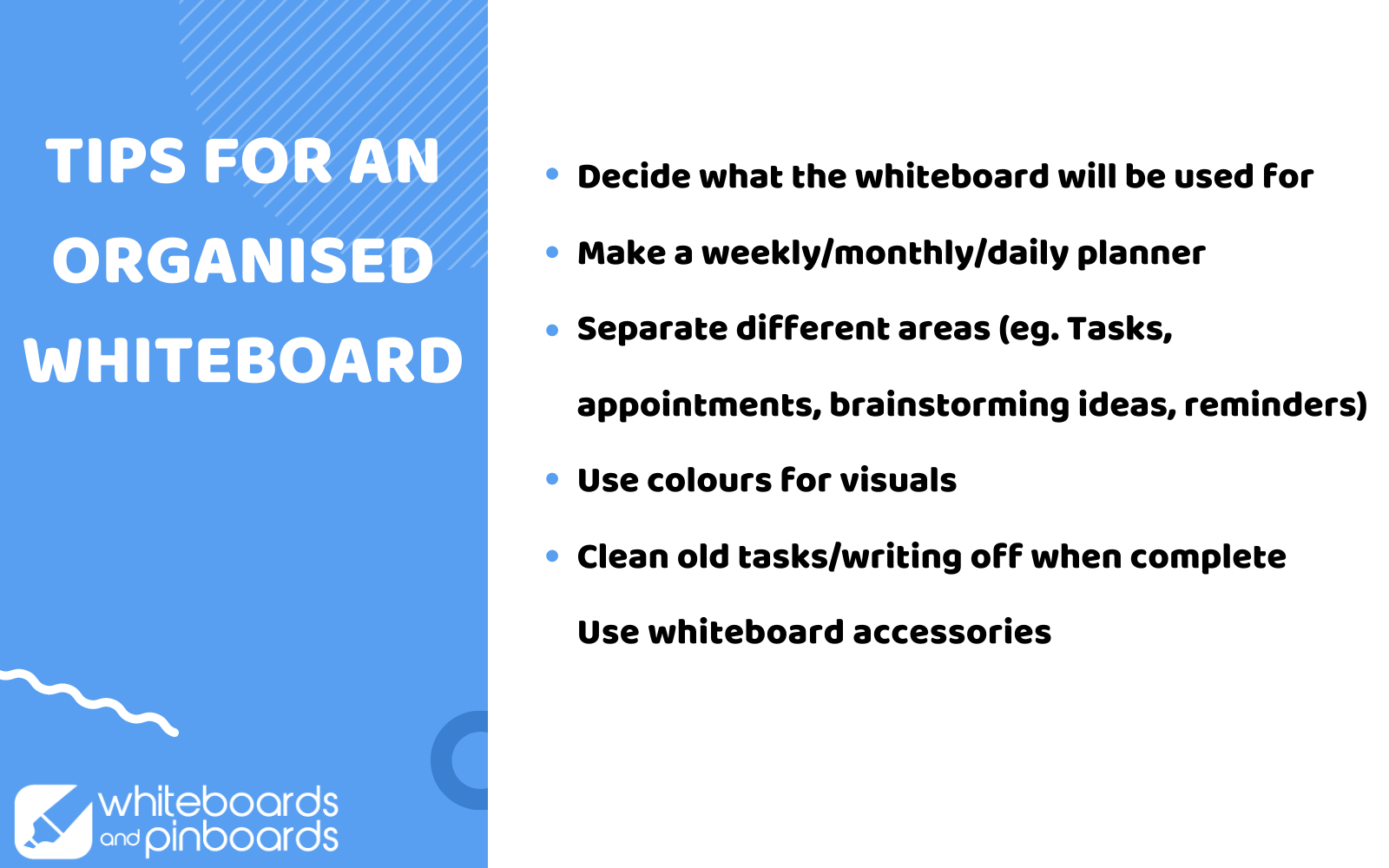 Whiteboard Accessories
Depending on where you plan to use your whiteboard, there are a number of whiteboard accessories available that can enhance your organisation efforts. In terms of how to use a whiteboard for organisation, we recommend purchasing a good eraser for your whiteboard that will effectively clean the surface without leaving any residue. Wiping off old information before you start a new project, task or daily schedule is crucial to staying organised. If the whiteboard is cluttered with old ideas, marker residue or stains, it won't provide a fresh canvas for your thoughts.
Other whiteboard enhancing accessories include magnets, markers and pins. You may choose to use sticky notes or similar to make note of essential reminders or use magnets to pin up your important documents.
Whiteboards Can Make You More Productive
There you have it – hopefully you've learnt a thing or two about how to use a whiteboard for organisation. Whiteboards are a simple product that provides a surface that can be used for writing notes, over and over again. The re-usable surface of whiteboards offers a communication device that can help everyone to stay organised and increase productivity. Perfect for school, work and home organisation, whiteboards come in a variety of sizes, styles, materials and prints. As such, you can utilise whiteboards in almost any capacity, helping to increase productivity in a wide variety of settings.
At Whiteboards & Pinboards, we stock a wide range of whiteboards to suit every type of environment. Stay organised, flexible and productive with our extensive range of classroom whiteboards, glass whiteboards, pre printed whiteboards and mobile whiteboards. Our versatile whiteboards allow anyone to communicate more effectively, enhance discussions, make points during meetings, pass on messages or organise to-do tasks. With a large selection of surfaces, sizes, frames and pre printed options, W&P is your one-stop-shop for exceptional organisational whiteboards online.