Looking for some letter board ideas for home décor? You've come to the right place. Whiteboards and Pinboards are Australia's leading supplier of letterboards and letterboard accessories. When it comes to creative ways to use a letter board, we've seen and helped our customers in commercial, residential and hospitality spaces to make chic and functional displays.
Letter boards are fun and functional decoration boards that are making a huge comeback in the commercial and home interior design sector. Adding a stylish and retro-style flair to any space, home letter boards are a playful way to communicate a message, make an announcement or display an inspiring quote.
Letter boards are perfect for cafes, classrooms, commercial spaces and homes. The changeable letters make it easy to make cute visual displays, allowing a change in décor without much effort. Letter boards are typically black felt boards with a wooden frame, displaying signs with a collection of white contrasting letters. In terms of letter board ideas for homes, letter boards make for great décor pieces that can also help the household keep organised!
Whether you're struggling to think of something witty to display or have just bought a letter board and want some family letter board ideas, we've got you covered. Whiteboards & Pinboards have come up with eight creative letter board ideas for homes that you can use today:
8 Ways to Use Home Letter Boards: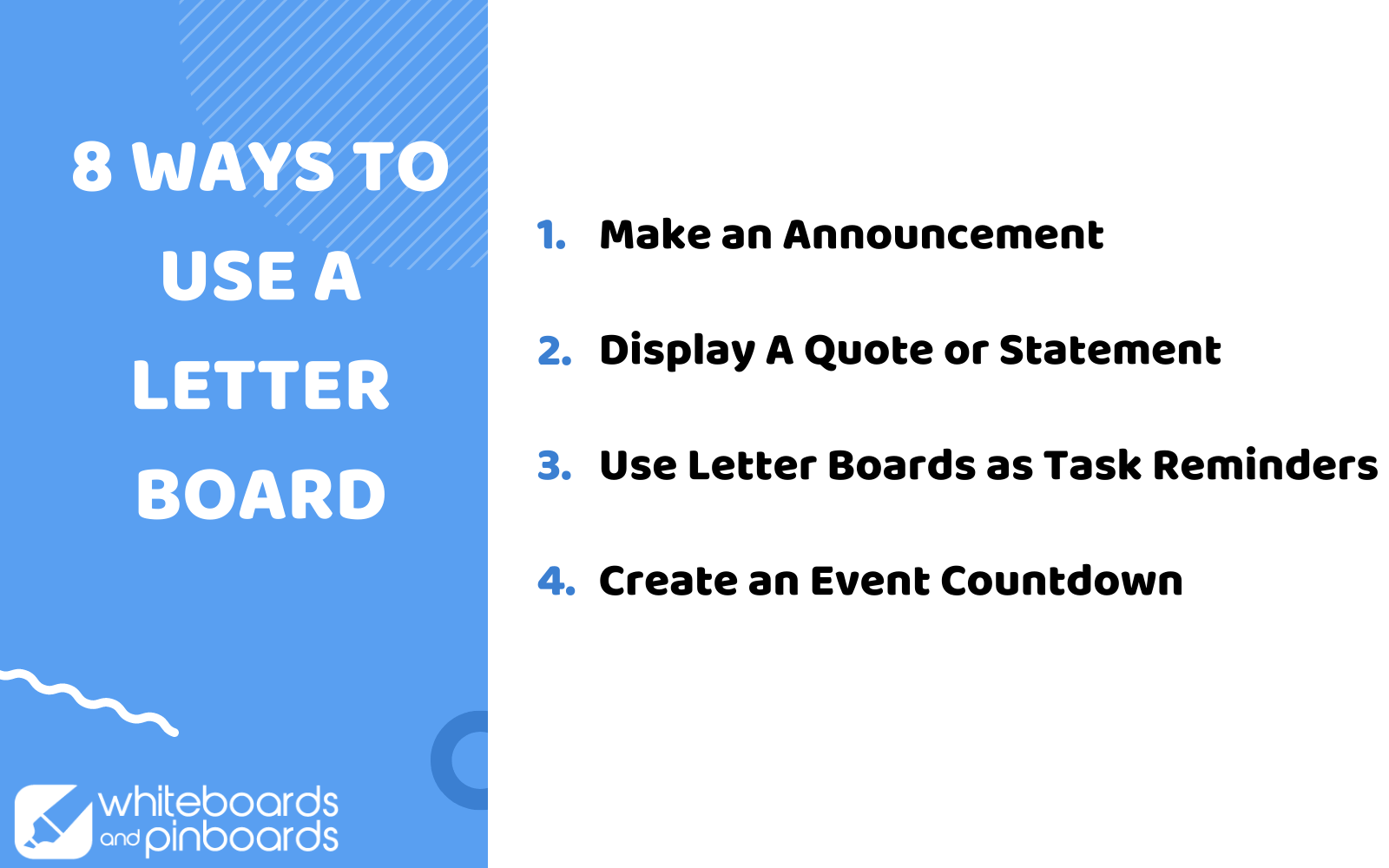 1. Make an Announcement
If you're on social media, chances are, you've seen the posts with friends and family making announcements with letter boards. Whether it's to announce a pregnancy, the birth of a baby, a birthday or anniversary, letter boards are great for making an announcement. After you've made your Instagram declaration (of course), display your announcement in your home with a retro-style letter board to have your news announced to all of your family, friends and guests.
2. Display Letter Board Quotes for Home Décor
Forget the Live, Laugh, Love signs that are so frequently plastered on family home's walls; home letter boards are taking over home décor. Besides the fact that letter boards offer a trendy and cute retro addition to your home, the benefits of having a home letter board are that they are also entirely changeable. Depending on how you're feeling, you can display your favourite cheesy mantra one day, and a witty and charming quote the next!
3. Use Your Letter Board for Reminders
One of the best ways to use a letter board in your home – particularly in a busy family home – is to use your letterboard to display a to-do list or a set of reminders. Whether you need to remind your kids to get their homework done, your spouse to complete a specific chore, or you want to check off grocery items; a home letter board can be a great source to visually display your reminders and the household tasks that need to be completed.
4. Create an Event Countdown
Have an exciting event or big day coming up? One excellent letter board idea for homes is to use the board and the interchangeable letters and numbers to create an event countdown. Event countdowns are a great way to get the whole family involved in building anticipation and excitement for a big event. With each new day, someone can change the numbers to reflect how many days or nights of sleep are left until the day of the event.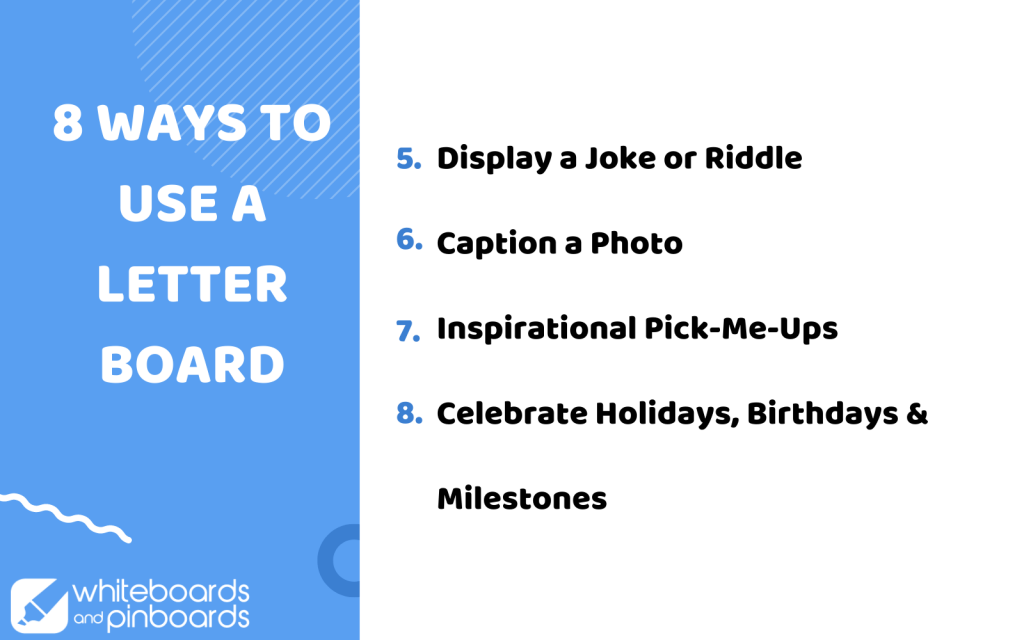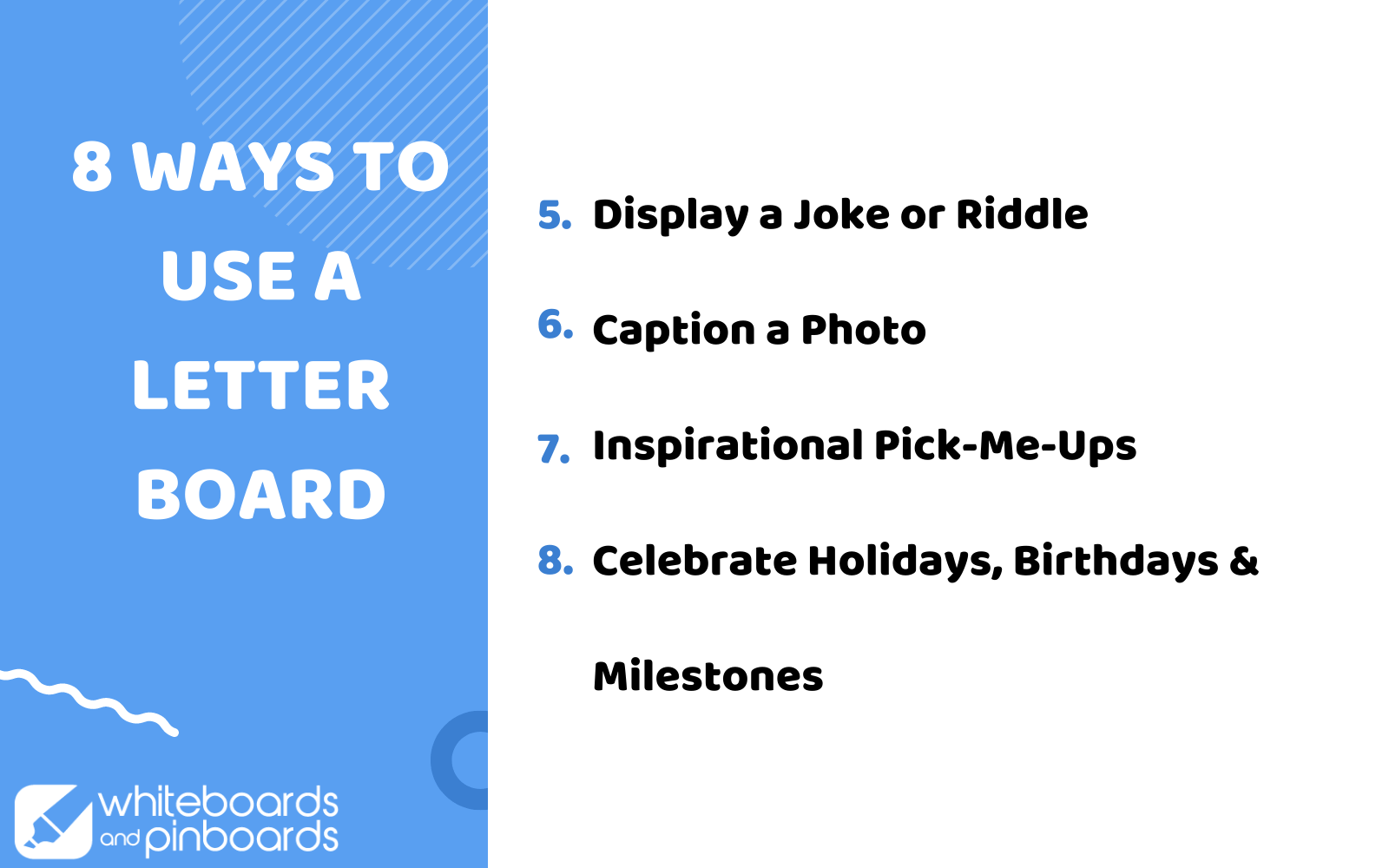 5. Joke of The Day/ Week
Using the board for a joke or riddle is one of the best family letter board ideas. Why not bring a little bit more laughter into everyone's day, by displaying a different joke each day or each week? Using a letter board to write a joke is a great way to add a bit of humour to your home. Even if the jokes are cheesy, regularly switching them up with new jokes or riddles can become something that everyone in your house begins to look forward to!
6. Caption A Photo
Have a recent memory or favourite photo that you want to display in your home? You can use letterboards to add some nice words or a caption to a printed photograph. Whether it be a funny caption, or the date, time or location of where the photo was taken, taking note on a letter board will make for a personable and beautiful family display.
7. Inspirational Quotes
Using inspirational quotes for home letter boards is one of the best letter board ideas for homes and personal spaces. Whether you want to create a little pick-me-up display for each morning, or you want to add a little bit of positivity to everyone's day, a great way of doing so is by using an inspirational quote on your letter board. Pick out your favourite quote from a famous philosopher, a movie, a song lyric or merely a quote that you like reading every day.
8. Celebrate Holidays, Birthdays & Milestones
If you're looking for some stylish holiday décor that's a little different, look no further than a letter board! A fun, trendy and completely changeable way to decorate your home, a letter board will help to ring in the season. Whether it be for Christmas, New Years, Easter or a family member's birthday, a home letter board can be the perfect way to celebrate.
Letter Board Ideas for Home
A letter board is a fun and playful way to communicate messages in your home. Whether you want to make an announcement or display a family mantra, home letter boards are entirely changeable and can be adapted to suit the style and interiors of your home. Use these eight creative ways to use a letter board in your home that will make a statement and have your guests leaving with a smile on their face.
If you're looking to buy a letterboard or letterboard accessories, we've got you covered. Whiteboards and Pinboards are the leading experts in home letter board design in Australia. Available in a wide range of colours, styles and sizes, we've got every type of letter board for the home. With free shipping across Australia, purchase your letterboard today with Whiteboards and Pinboards.