Description
Peel 'n' Stick Acoustic Panels reduce echo and easily transform walls into notice boards and awesome feature pieces with their commercial adhesive backing. They come in a wide range of over 35 colours and are easily cut to different shapes and sizes to work around fixtures or make creative designs. The fibres have a directional grain, allowing you to make attractive patterns using a single colour.
Each 600 x 600mm acoustic panel effectively reduces echo and reverberation in a room due to the acoustic properties of their velour fabric surface (Noise Reduction Coefficient – 0.4). The surface is both pinnable and velcro receptive. They are Australian made to a high standard from 60% post-consumer recycled materials and are tested and confirmed to be a low VOC product (low chemical emissions), nor do they promote the growth of mould or mildew, so they don't negatively affect air quality. 
Peel 'n' Stick Acoustic Panels are easy to clean – a light vacuuming on a regular basis will prevent dust build-up and most marks are easily cleaned with a mild detergent solution followed by rinsing and blotting.
For more information and imagery, please see the documents under the 'Assembly & Documents' tab.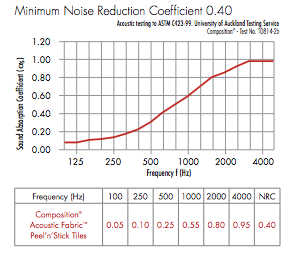 Features
Lightweight, easy to handle and cut to size/shape
Commercial adhesive backing with simple peel and stick application
Non-woven velour fabric surface, specially designed to absorb sound to reduce echo and reverberation
Environmentally friendly – made from minimum 60% recycled material
Non-toxic, non-allergenic, low-VOC, and ISO 9705 Fire Safety tested
Colour swatches are indicative only. Please contact us for samples
10 year warranty
Application & Installation
Designed for use on plasterboard walls – please contact us for other wall applications
Teflon or silicon based painted walls require Bond Crete priming prior to applying tiles. This includes Wash and Wear, Aquanamel, Supernamel and Weathershield paint
For more information, please see the installation guide under the Assembly & Documents tab
Further improve the acoustics of your school or office with our full range of Autex acoustic panels.
This product usually dispatches within 1-2 weeks. If a requested colour is out of stock it can take up to 4 weeks for manufacture. If lead time is a concern, please contact our sales team to check colour availability prior to placing your order.